ELK RIVER, Minn. (KMSP) -
The preliminary investigation indicates a car struck by two Northstar commuter trains Tuesday evening in downtown Elk River stalled on the tracks while driving around the lowered gates.

This was the second Northstar train crash in the Elk River area in two days.
Fox 9 News reporter Paul Blume witnessed the crash on Highway 10 and Jackson Street. Although everyone escaped the car safely, the vehicle was struck by two trains traveling in opposite directions.
Police said the driver had been sitting at the red light before trying to go around the crossing arms.
"Attempted to make a U-turn between the stop arms and at that point was struck by the eastbound Northstar commuter train," Police Chief Brad Rolfe explained.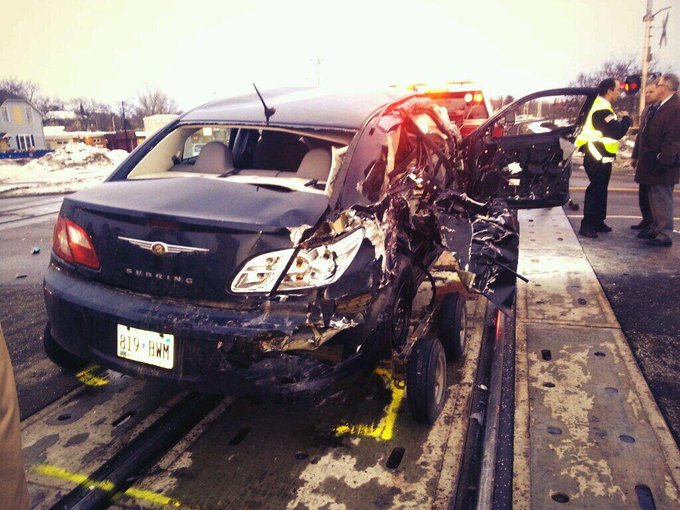 Witnesses watched as the black sedan carrying three people was struck by the first train. Rolfe said all occupants were able to escape before the second train, which was heading in the opposite direction from the first, also hit the vehicle.
"It hit and spun," witness Matthew Kimbrough said of the second collision. "The train stopped and I ran up looking for the worst, but thank God that's not what happened."

The force of the impact was so strong it set off airbags in the vehicle and ripped at least one tire from its wheel well; however, no injuries were reported.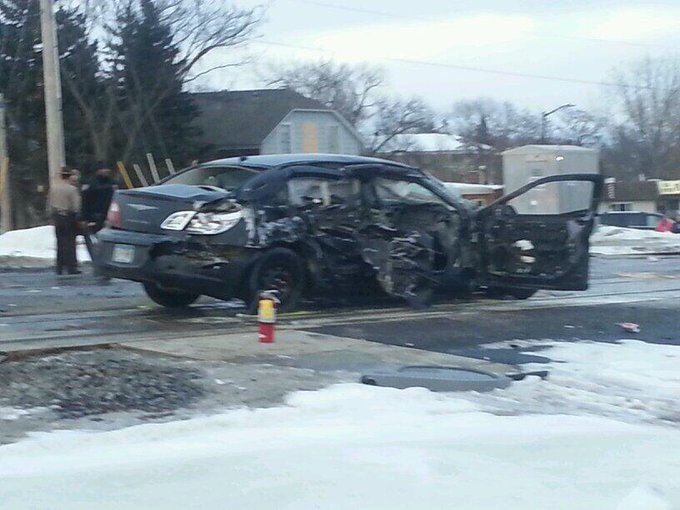 Passengers aboard the trains felt the crash, but one woman bound for Big Lake said commuters had to wait several minutes before they got any answers. Others, like Vicki Domka, could see for themselves.

"It felt like a few jolts all of a sudden," Vicki Domka said. "We slowed down and everyone was confused on what was happening."
Once the damaged vehicle came into view, it became clear that a crash had caused the clamor and the focus quickly turned toward those struck by the train as it traveled at speeds estimated between 55 and 60 mph.
"Everybody was in shock because we were nervous that somebody got hurt," Domka said.

The crash caused significant delays in the evening commute. Metro Transit officials estimated that those waiting to board a Northstar train would wait between a half an hour to a full hour before buses could arrive to provide alternate service.
"I'm very frustrated," Domka admitted. "Now, I'm going to be home an hour late when I should be home by now."

MONDAY CRASH INVOLVED MOTHER, INFANT
Just a day earlier, Metro Transit officials confirmed a car with a mother and infant inside collided with a train after coming into contact with a second vehicle at an intersection.
MORE: No injuries in crash that delayed Northstar trains

Neither mother nor child was injured in that crash, which was first reported as a collision involving an abandoned vehicle. Metro Transit officials later confirmed that the mother had left the car upon realizing she could not move it or free her son while still in the driver's seat.