Tesla crashes into Scottsdale building and catches fire - twice
SCOTTSDALE, Ariz. - Scottsdale firefighters had to extinguish a Tesla car fire twice on Friday: once after it crashed into a building and again while they were towing it.
A witness said the driver was trying to park in a parking lot near Scottsdale Road and Paradise Lane when the car suddenly lurched forward, crashing into a nearby building.
The witness told FOX 10 she rushed in to help the people inside out.
"I helped the mom take her daughter out of the driver's seat," the witness said. "She was bleeding quite a bit, but we moved her to the ground, called 911 right away.
"The car was on fire underneath the tires, so it went up in flames about 30 seconds after the crash," she said.
The car's owner, identified only as "Prayam," said his wife and daughter were inside the car when it caught fire.
"She calls me frantically. She got in a car accident," said Prayam.
Scottsdale police say the injuries are not life-threatening.
Later that morning, firefighters and Phoenix HAZMAT crews were called to Scottsdale Road and Butherus Drive after the Tesla caught fire again while it was being towed.
Prayam said he was on his way to scene when he realized his car was involved in a second fire.
"And then I find this out," said Prayam. "Oh my gosh, the road is blocked, and that's my car going to nothing."
The tow truck driver was taken to the hospital to get check out. As of the afternoon of Feb. 24, more than a dozen fire engines, trucks, and HAZMAT teams are still on the scene to douse the car with water, and making sure a third fire does not spark.
"There are certain portions of electric vehicles [that] once they catch on fire, they're very difficult to put out and take copious amounts of water," said M. D. Clark with the Scottsdale Fire Department. "We are putting as much water on it as we can, and mitigating the hazard to the surrounding area."
Scottsdale Road is closed in both directions between Butherus Drive and the Greenway/Hayden loop. Traffic is being diverted a quarter mile in all directions in the Kierland Commons area.
"Consider earlier detours on Scottsdale Rd at Cactus, Thunderbird and Frank Lloyd Wright or at 64th St or Hayden for east/west traffic," Scottsdale officials said.'
Despite what happened, Prayam said he is going to replace the car, with the same make and model.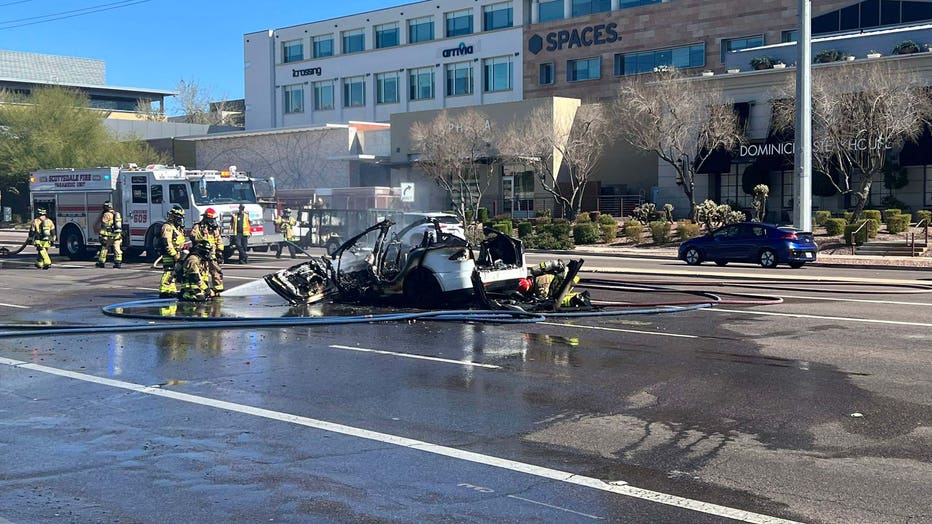 A Tesla that caught fire after crashing into a Scottsdale building burst into flames again as it was being towed away.
More Arizona headlines