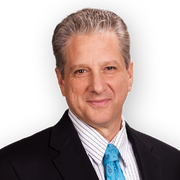 Jude LaCava
Sports Anchor
Jude LaCava joined FOX 10 in 1993. He is the sports anchor for FOX 10 News, and hosts "FOX 10 SportsNight" on Sunday nights.
Prior to coming to FOX 10, Jude hosted the "620 Sportsline" on KTAR.
He has won numerous journalism awards, including two Emmy awards and numerous Associated Press honors.
LaCava was the Suns analyst during the 1992-1993 season, he was also the original voice of the Arizona Rattlers in their initial season in 1992.
Jude was a high school all-league basketball player and played at Baldwin-Wallace College where he received a Bachelor of Arts in Communications. He earned a postgraduate degree from Fork Union Military Academy in Virginia.
Jude is assisting his sister's foundation, Dorothy Foundation funding support for a simple blood test that would be able to detect breast cancer pre- stage one. Jude also assists the American Cancer Society in a number of events including the upcoming "Real Men Wear Pink" campaign. 
The latest from Jude LaCava
FOX 10's Jude LaCava and former NFL running back Reggie Bush have a preview of Oct. 31's game in Glendale, Arizona.