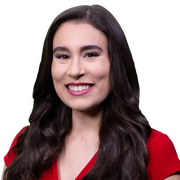 Marissa Sarbak joined the FOX 10 team in February 2022, reporting for the station's primetime newscasts. A native New Yorker, Marissa is thrilled to call the desert her new home, meet new people, and experience everything this side of the country has to offer.
Before joining FOX 10, Marissa was an anchor and reporter for a regional cable news network in New York. She covered notable stories including the Gabby Petito case, COVID-19 pandemic, and the wake of fallen NYPD Officer Anastasios Tsakos. Marissa also worked as an entertainment reporter for Newsday, a legacy newspaper on Long Island making its way into the digital world. She interviewed celebrities from all facets of the entertainment world, such as Peter Frampton, Mayim Bialik, and Darlene Love.
Marissa began her career as a reporter at the CBS affiliate in Gainesville, Florida, where she interviewed Bernie Sanders on the 2016 Presidential campaign trail, covered numerous severe weather events, and focused on the crime beat, working alongside the Gainesville Police Department and the Alachua County Sheriff's Office. Following her time in the field, Marissa moved on to anchor the evening newscasts for the station.
When she's not in the newsroom or covering stories in the field, you can find Marissa horseback riding, checking out local coffee shops, or traveling anywhere and everywhere! 
The latest from Marissa Sarbak