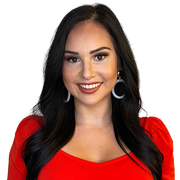 Siera Santos
Sports Anchor/Reporter
Siera Santos joined the FOX 10 sports team in March 2020 and is finally back in her hometown covering the teams she grew up rooting for. 
Before returning to her roots, Siera spent nearly five years as a sports broadcaster in Chicago where she served as the White Sox sideline reporter for the regional sports network NBC Sports Chicago and went on to host the station's nightly flagship show.
She began her career as a news multimedia journalist in Colorado Springs before making her way to Oklahoma City where she transitioned back to her true love: sports. She also spent time as a sports anchor and reporter at the CBS duopoly in Los Angeles. 
Siera's path to top television markets wasn't easy. When she was 17, she dropped out of high school and got her GED. She wasn't motivated to go to college until she knew exactly what she wanted to do with her life: become a sports broadcaster. That passion translated to the classroom and she graduated with honors from Arizona State University with a degree in broadcast journalism and minor in Spanish. 
In her free time, Siera enjoys dancing bachata, making margaritas from scratch and hiking Arizona's scenic trails. She is an advocate for animal adoption and you can usually find her hanging out with her rescue dogs Neil Diamond and Inkie. 
 
The latest from Siera Santos
The Phoenix Suns have defeated the Milwaukee Bucks in Game 1 of the NBA Finals. Meanwhile, Suns Fever is sweeping the Valley, as Suns fans gather to support a team that is returning to the finals for the first time since 1993.
She graduated with honors from Arizona State University's Walter Cronkite School of Journalism and was soon climbing the broadcasting career ladder with stops in Colorado, Oklahoma, Illinois, and California. And now we're lucky to have her back in her hometown at FOX 10, covering the very same teams that helped launch her career.