Man accused of killing kidnapping victim, dumping body in Arizona desert
PHOENIX - A suspect has been arrested after police say he kidnapped a man at gunpoint in North Phoenix before killing him and dumping his body in the desert.
According to Sgt. Andy Williams with Phoenix Police, officers responded to reports of a kidnapping near Seventh Avenue and Union Hills Drive at about 8 a.m. on Oct. 6.
The victim, identified as 19-year-old Oscar Ortega, was reported by his family to have possibly been kidnapped. Police learned Ortega left his girlfriend's house at around 2 a.m., was kidnapped at gunpoint, and forced into a vehicle by 18-year-old Jerssen Perez.
Police say Perez was the ex-boyfriend of Ortega's girlfriend.
Court documents provide more details on incident
The search for Oscar Ortega began when he texted his girlfriend that he had been kidnapped, and his family began posting about his disappearance on social media.
Court documents painted a disturbing chain of events involving Perez, who allegedly waited for Ortega to leave his girlfriend's home in North Phoenix on Oct. 6, kidnapped him at gunpoint, and then forcing him into his own car. 
According to police officials, Perez shot Ortega multiple times after seeing him texting on his phone. The same day, the suspect's family told police he had confessed to the murder, gave them the gun, and they told investigators that he had red stains on his clothes.
Once arrested by Phoenix Police, detectives say Perez confessed, and he eventually led officers to a desert area north of Phoenix, where he allegedly dumped Ortega's body.
According to court records, Perez told police he had been planning the murder for the past month.
Suspect's attorney argued for lower bond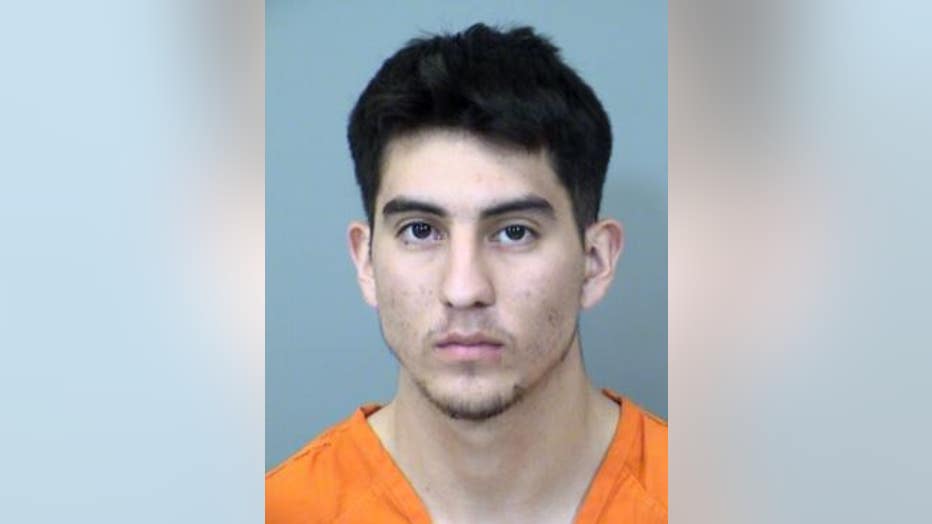 Jerssen Perez (Maricopa County Sheriff's Office)
During Perez's initial court appearance on the afternoon of Oct. 7, his attorney argued for a lower bond, claiming Perez has no prior criminal history, and that both he and his family helped investigators.
"His family secured evidence for the state. They did not attempt to conceal anything. Secondly, when he was arrested, he actually led them to evidence that would help their case," said the defense attorney.
Perez was booked into jail and is accused of multiple charges, including first-degree murder and kidnapping. A $1 million secured bond was set for Perez. He is scheduled to return to court on Oct. 14.
Arizona Headlines
Tune in to FOX 10 Phoenix for the latest news
For the latest local news, download the FOX 10 News app.