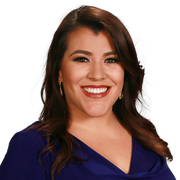 Jennifer Martinez
Reporter
Jennifer joined the FOX 10 news team in October 2018 She comes to Phoenix by way of Tucson and she is thrilled to be in Phoenix as she continues her journey in the Grand Canyon state.
Jennifer was a News Reporter and Fill-in anchor at KGUN 9 in Tucson but she is no stranger to the Capital. She covered countless stories in Phoenix, including President Donald Trump's first visit to Arizona and the death of late Senator John McCain. She also covered major stories along the US/Mexico border, the historic #RedforEd movement where thousands of teachers protested for better classrooms in Arizona, and the deadly restaurant shooting at a popular mall, La Encantada.
Jennifer's most passionate work came when she anchored a 30-minute special, "The Quiet Epidemic: Mental Illness in Arizona."
Jennifer began her reporting career in her beloved home state, Massachusetts. She was a News Reporter at Western Mass News in Springfield, just west of Boston. Although Jennifer has put down some roots in Arizona – Jennifer is a proud Bostonian through and through! Go Patriots, Celtics, and Red Sox!
Jennifer graduated from Suffolk University with a Bachelor's degree in TV broadcasting.
Jennifer's love to tell stories is what led her to become a journalist. She began writing in a journal at a young age and always asked too many questions.
Jennifer is a proud Latina – her family is from Puerto Rico. ¡Sí, hablo español!
When Jennifer is not reporting the news you can find her hiking up a mountain, taking a yoga class, catching a flight somewhere, playing with her kitty Little Lola, dragging friends to brunch, and exploring her new city!
The latest from Jennifer Martinez