Tropical Storm Jose forms in the Atlantic as NHC continues to watch Idalia, Franklin and 2 other systems
ORLANDO, Fla. - Tropical Storm Jose formed in the Atlantic Ocean about 785 miles east-southeast of Bermuda early Thursday morning, as the National Hurricane Center continues to monitor Tropical Storm Idalia, Hurricane Franklin and two other tropical disturbances. 
The former depression has maximum sustained winds of 40 mph and is moving north at 5 mph. It has a minimum central pressure of 1011 mb. 
Forecasters said Tropical Storm Jose will see little change in strength over the next day or so and is expected to be absorbed by Hurricane Franklin by the weekend. 
There are no coastal watches or warnings in effect.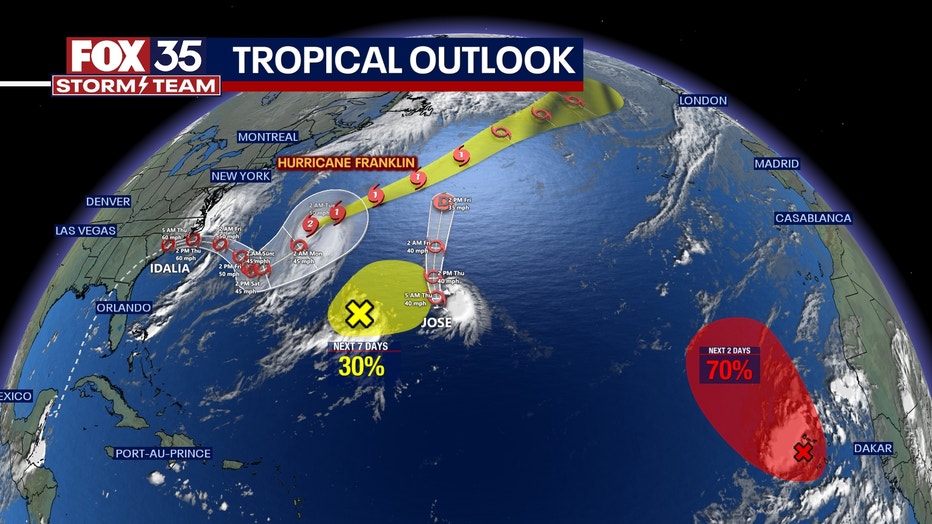 Tropical Storm Idalia brings heavy rainfall, flash flooding concerns in North Carolina
Areas of flash, urban and moderate river flooding will continue across coastal North Carolina through Thursday as Tropical Storm Idalia dumps heavy rain in portions of eastern North Carolina. 
"On the forecast track, the center of Idalia will just offshore of the coast of North Carolina today," the NHC said in its advisory. "Idalia will then move over the western Atlantic into the weekend."
Hurricane Franklin causing dangerous surf, rip current conditions
The NHC continues to monitor Hurricane Franklin as it causes life-threatening surf and rip currents along the east of the United States and Bermuda. Those conditions are expected to continue over the next couple days. 
Two other tropical disturbances
Environmental conditions are conducive for a disturbance off the west coast of Cabo Verde Islands to become a tropical depresses over the next couple of days as the sytem moves west-northwestward to northwestward across the eastern tropical Atlantic.
It has a 70% chance of formation over the next 48 hours.
A second disturbance in the central subtropical Atlantic has a short window for further development later Thursday before environmental conditions become more unfavorable by this weekend, as the system drifts slowly northeastward or eastward, the NHC said.
It has a 30% chance of formation over the next seven days.