Two more drownings reported in Lake Mead; officials warn of high-risk windy conditions
BOULDER CITY, Nev. (AP) - Officials are urging visitors to Lake Mead to proceed with caution in the wake of two drownings amid hazardous conditions created by the weather.
The National Park Service issued a news release Friday confirming two drownings occurred last weekend in the Lake Mead National Recreation Area.
That brings the total number of deaths this year in that area to 19.
Officials also say there have been several incidents in the water and on land brought on by gusty winds generated by the summer monsoon.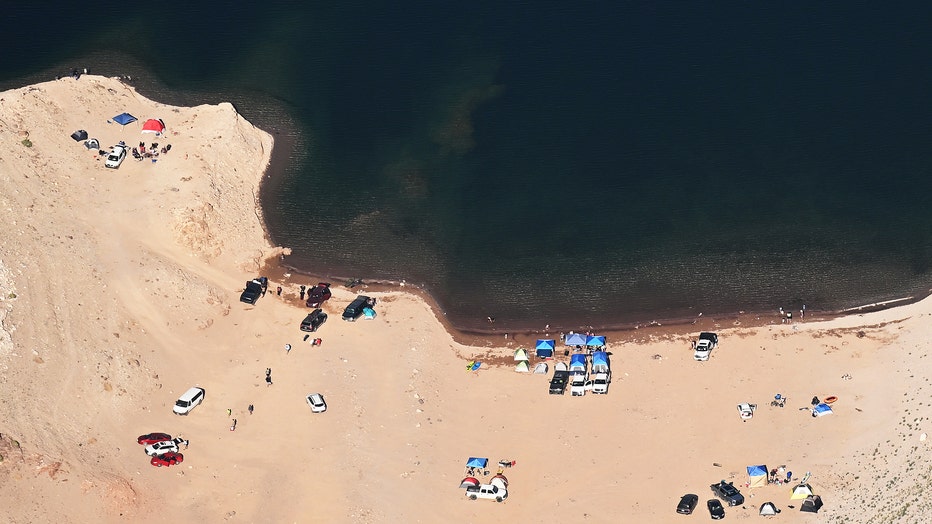 LAKE MEAD NATIONAL RECREATION AREA, NEVADA - APRIL 16: People hangout at a sandy beach stop at Lake Mead on April 16, 2023 in Lake Mead National Recreation Area, Nevada. If Lake Mead was full the beach would be under water, but drought has the lake a
Boaters and swimmers with pool toys and paddleboards have been propelled from designated swimming areas.
Authorities say tourists at the lake for summer recreation should keep life jackets on hand. They should also remember that pool toys are banned because the wind can carry swimmers away. Inflatable toys can also turn dangerous if they pop or deflate suddenly.
Lake Mead, which sits at the Nevada-Arizona border, has seen its water level drop over the past year as the Colorado River reservoir behind Hoover Dam recedes because of drought and climate change.