Suspect arrested in murder of man at Glendale park
GLENDALE, Ariz. - Glendale Police say a suspect has been arrested after they found a body with gunshot wounds at a park Wednesday afternoon.
At around 4 p.m. on Aug. 2, an officer reportedly saw a group of people running away from the area of Bethany Home Road and 59th Avenue.
"The running subjects pointed the officer to Bonsall Park South where he located a 53-year-old male deceased with apparent gunshot wounds," Glendale Police Officer Gina Winn said.
The victim was identified as 53-year-old Byron McBrine.
Witnesses reported to police seeing the suspect shoot McBrine before fleeing the scene in a blue four-door car. Investigators say they were able to identify the vehicle, which was associated with 44-year-old Eron Corrales.
Corrales was arrested on unrelated drug charges.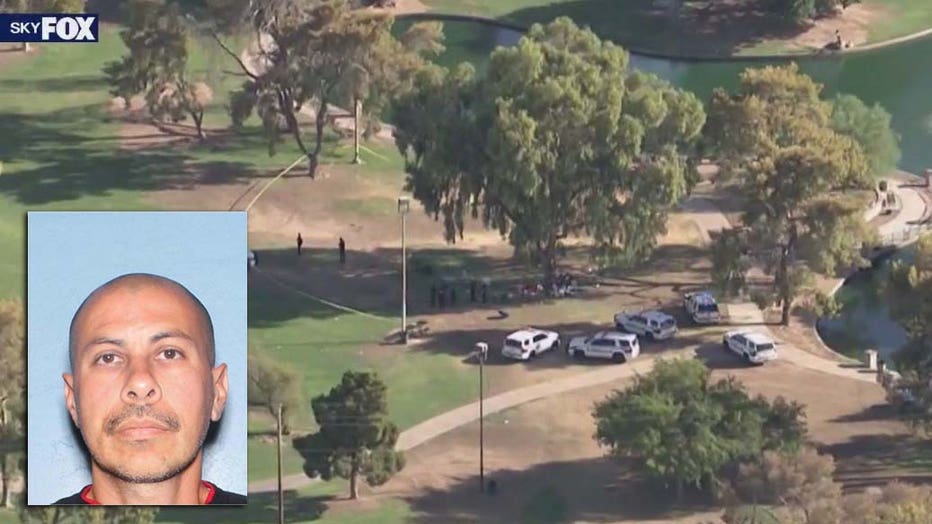 Eron Corrales, 44, was arrested in connection to the murder of a man at a Glendale park.
"Further evidence of his involvement in the shooting was seized upon his arrest," police said.
Corrales was booked into jail and is accused of first-degree murder. 
Victim remembered fondly
Jozzette Walker Sanders says her brother loved to read at the Glendale park every single day.
"He liked animals, he liked to feed the ducks and the birds. He's been going to the park since he was a child and I was a child. I can remember it's just something he liked to do, go to the parks," she said.
Exactly a week ago, Glendale Police detectives say 44-year-old Corrales opened fire and killed Byron at the park after Byron tried to stop Corrales from selling drugs.
Corrales, a convicted felon, just got out of prison in March after serving a 27-year murder sentence.
"He and my brother had some form of words, pretty much saying, 'You can't be here selling drugs,'" she said.
Photo from Jozette Walker Sanders
Jozzette says she and Byron were plagued with the problems associated with drugs since childhood and Byron made it his mission to protect others from it.
"Our mother was addicted to drugs, and we did a lot to help her get clean, and keep the people from selling her drugs and the people in our community drugs," she said.
Jozzette wants to set the record straight, so people know what really happened that day at the park, and hopes others will follow in his footsteps trying to do the right thing.
"I just want people to remember that he would and did lay down his life to give back to the community and to help make a better place for us and the children to live in," Jozzette said.
Map of where the shooting happened: