FD: 1st alarm fire breaks out at Big-O Tire in North Phoenix
PHOENIX - Phoenix and Glendale firefighters responded to a first alarm fire that broke out at Big-O Tire shop Monday morning. 
Fire officials say the fire is now under control near 23rd Avenue and Bell Road.
Thick, black clouds of smoke could be seen miles away from the interstate.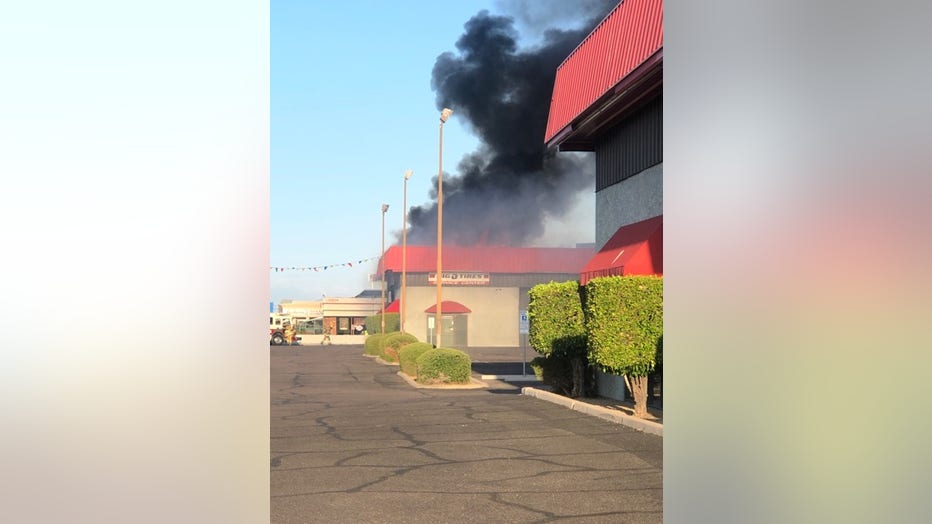 Witnesses nearby say the fire started in the blink of an eye. 
"It didn't start real slow or anything it just immediately was black smoke and we thought it was the Chevy dealer here but I took a look and I was like wow, this not good," said Steve Breitrich. 
"Literally the whole area was engulfed in smoke," said Richard Munoz. "At first it wasn't as bad because everything was going up towards the sky after that the wind came in and started blowing everything eastbound so it was pretty hard to breathe," said Richard Munoz. 
Battling the fire was challenging for firefighters. Because it was so intense, they had to go on the defensive. It took hours to get it under control. 
"This is challenging, this is what we call a big-box building, and its got tires in there and potentially hazardous materials which is a lot of fuel for fire to burn," said Kenny Overton, Phoenix Fire Captain. 
No one was injured in the fire. 
The cause is under investigation.