Here's how much workers are demanding to start a new job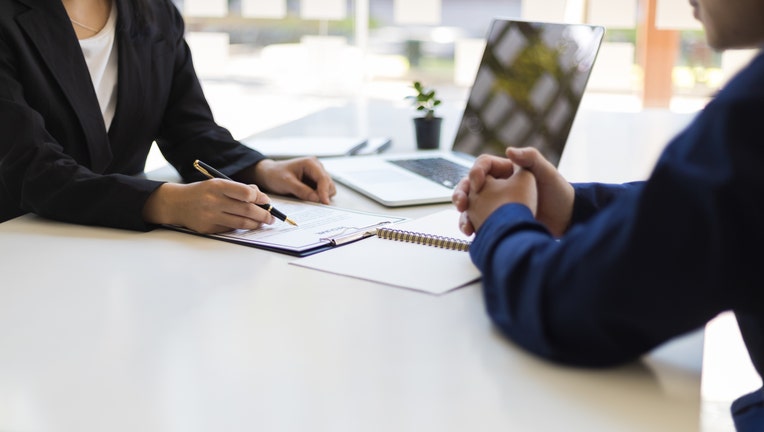 article
The lowest wage that American workers are willing to take in order to accept a new job hit a record high this year, according to a Federal Reserve Bank of New York survey published Monday.
The average "reservation wage" – or the minimum acceptable salary offer required for workers to switch jobs – hit $78,645 during the second quarter of 2023, according to the Fed's latest survey of consumer expectations.
That marks a nearly 8% increase from the same time last year when the average reservation wage hovered around $72,873.
US HOUSING MARKET DEFYING CRASH EXPECTATIONS AS SUPPLY SHORTAGE KEEPS PRICES HIGH
The year-over-year increase was most pronounced for workers over the age of 45.
Workers with a college degree now expect a $98,600 annual salary in order to take a new job while those without one indicated they would not accept a salary below $63,300.
The extremely tight labor market has allowed workers to quit their jobs in favor of better wages, working conditions and hours – a trend dubbed the "Great Resignation." The Labor Department reported this month that the economy had 9.6 million positions open at the end of June, meaning there are roughly 1.6 posted jobs for every unemployed worker.
AMERICANS BURNING THROUGH EXCESS SAVINGS FROM THE PANDEMIC, SF FED STUDY SAYS
Switching jobs has proved to be a lucrative move for many Americans. Workers who changed jobs in June received a 7% annual pay raise, which compares to the 5.5% pay raise seen by those who stayed in the same position, according to recent data published by Federal Reserve Bank of Atlanta.
However, rapid wage growth has also been a key driver of high inflation over the past two years.
The Federal Reserve has repeatedly continued to caution about the possibility of a wage-price spiral, with Chairman Jerome Powell speaking about the risks of substantial pay increases.
"I think many, many analysts believe that it will be an important part of getting inflation down, especially in the non-housing sector, to getting wage inflation back to a level that is sustainable, that is consistent with 2% inflation," Powell told reporters in June.
A wage-price spiral occurs when prices march higher and workers demand additional compensation in order to keep pace. That, in turn, can push inflation even higher as companies look to offset the steeper labor cost.
Still, there are signs the labor market is beginning to cool off in the face of higher interest rates. Employers added 187,000 jobs in July, the lowest level in two years as demand for workers begins to recede.