LSU's Reese unapologetic over gestures to Iowa's Clark at NCAA championship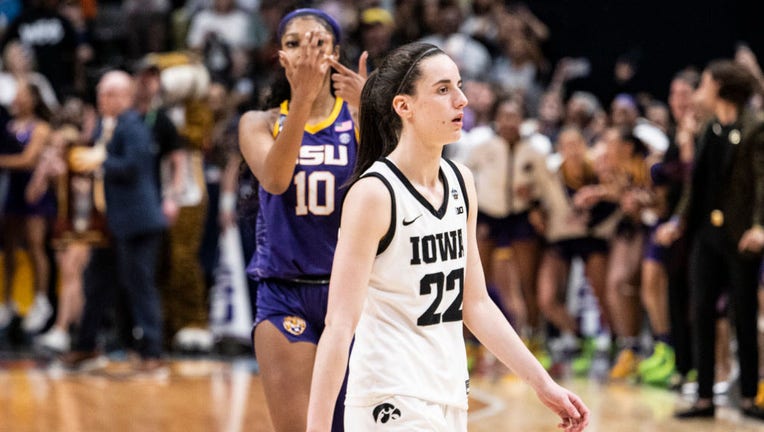 article
Louisiana State University won its first basketball championship Sunday night, defeating Iowa 102-85. 
But the school's historic win isn't what's got people talking – it's a hand gesture made by LSU's bubbly junior player Angel Reese.
In the fourth quarter, Reese pointed to her finger, signifying that it was her turn to get a championship ring and flashed Iowa star Caitlin Clark with the John Cena "you can't see me" taunt, which involves putting one's hand in front of their face.
The gesture lit up social media, with comments supporting the so-called "Bayou Barbie" for trash talk that's just part of the game and condemning her for lacking grace in victory. Many called her "classless," which even began to trend on Twitter.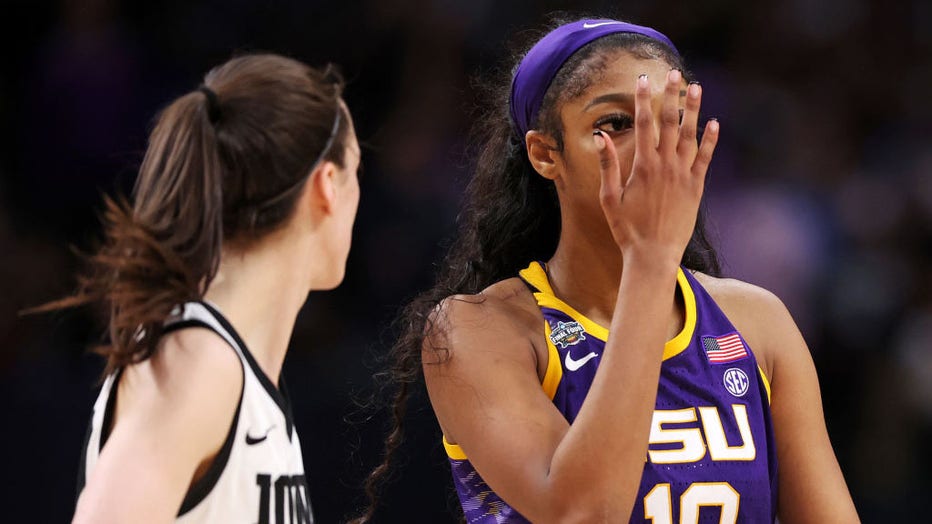 Angel Reese #10 of the LSU Lady Tigers reacts towards Caitlin Clark #22 of the Iowa Hawkeyes during the fourth quarter during the 2023 NCAA Women's Basketball Tournament championship game at American Airlines Center on April 02, 2023 in Dallas, Texas
But the sentiment was also hotly debated as a double standard because Clark didn't receive the same attention when she flashed the same gesture in a previous game. 
Clark waved her hand over her face in Iowa's Elite Eight win when she had a 40-point triple-double, a move that even got a supportive shoutout from Cena himself. 
RELATED: NCAA: LSU defeats Iowa, wins 1st championship
Emmanuel Acho, a former NFL linebacker and current analyst for Fox Sports 1, joined the conversation Sunday night. 
"If it wasn't "classless" when Caitlin Clark did it, don't call it classless when Angel Reese does it. Let the women compete, it's sports!" he tweeted. 
After the game, Clark appeared to have no hard feelings but it wasn't clear if she even noticed. 
"I was just trying to get to the handshake line and shake hands and be grateful that my team was in that position," she said, after scoring 30 points that game. "That's all you can do is hold your head high, be proud of what you did. All the credit in the world to LSU. They were tremendous."
And, despite Reese's critics online, she remained unapologetic in the postgame news conference.
"All year, I was critiqued about who I was," she said. "I don't fit in a box that y'all want me to be in. I'm too hood. I'm too ghetto. But when other people do it, y'all say nothing. So this was for the girls that look like me, that's going to speak up on what they believe in. It's unapologetically you."
The fashionable 6-foot-3 post with modeling aspirations is becoming a social media magnet. Reese wooed Lil Wayne after chastising the rapper from New Orleans for reaching out to Elite Eight opponent Miami before doing the same with the Tigers.
"I'm going to be me, but I can't do it without the girls here, and I can't do it without the rest of my teammates and coaches," said Reese, who had 15 points and 10 rebounds while three teammates scored at least 20 points.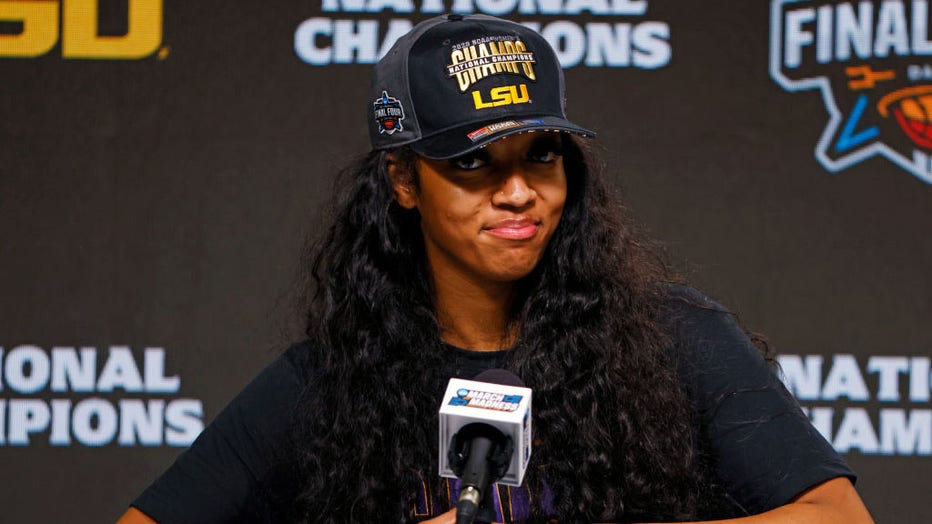 Angel Reese #10 of the LSU Lady Tigers speaks during a press conference after the LSU Lady Tigers beat the Iowa Hawkeyes 102-85 during the 2023 NCAA Women's Basketball Tournament championship game at American Airlines Center on April 02, 2023 in Dall
She was named the Most Outstanding Player at the Final Four after setting an NCAA single-season record with her 34th double-double against the Hawkeyes.
"Twitter can say what Twitter can say," Reese said. "I love reading those comments. I have all the screenshots of what everybody has said about me all season. What are you going to say now?"
This story was reported from Detroit. The Associated Press contributed.