Street race ends with 1 dead, 1 arrested after crash at Scottsdale Resort
SCOTTSDALE, Ariz. - A street race in Scottsdale ended with a 21-year-old man's death after a crash. Nicholas Meath died after his car collided with a pillar at the Scottsdale Plaza Resort the night of Nov. 14.
Witnesses at the hotel had to run from the flying debris and according to online court records, the man who allegedly raced Meath has a history of dangerous driving.
27-year-old Cameron Groom was arrested. He is accused of one count of manslaughter and six counts of endangerment.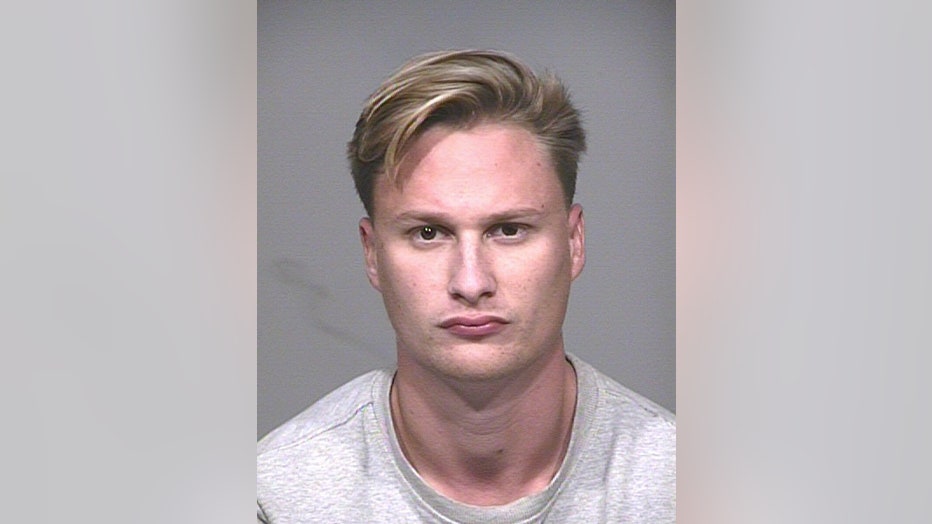 Police at the scene said Groom and Meath started at a red light at Cheney Drive, facing southbound at Scottsdale Road. Then witnesses stated the two sped off once the light turned green.
Vehicular crimes detectives estimate the two traveled faster than 120 miles per hour in a 45 mile per hour zone.
Court documents say an unknown van turned left onto Scottsdale Road when Meath lost control. He crashed into a curb and his vehicle airborne, then crashed into a concrete pillar. The impact split the car into multiple pieces.
One man and his two children were stopped in an SUV at the entrance.
According to court documents, the father heard the screeching tires and saw headlights from behind. He moved seconds before Meath's car flew into the pillar.
The witness got out and tried to help him, but it was too late. Meath died at the scene.
At least three witnesses near the Plaza Resort entrance were hit by flying glass as they ran outside, escaping serious injury.
Online court records revealed Groom has several traffic violations that include following too closely, unsafe lane changes, and speeding within a two year span. Police say he's from Beverly Hills, California and visiting Arizona to take his car to the race track. 
Get breaking news alerts in the FREE FOX 10 News app. Download for Apple iOS or Android.