Arizona rancher George Alan Kelly posts $1M bond, released from custody ahead of next hearing
SANTA CRUZ COUNTY, Ariz. - Arizona rancher George Alan Kelly, who is facing murder and other charges in the shooting of a Mexican national on his border property, has been released from custody, Fox News Digital confirmed Thursday. 
Santa Cruz County Sheriff's Office Chief Deputy Gerardo Castillo confirmed that 73-year-old Kelly posted bond Wednesday after appearing in court. 
Judge Emilio Velasquez had upheld Kelly's $1 million bond, though agreed to convert it from cash to surety. He also set the next hearing date for Friday despite the defense pleading for a continuance of 30 to 60 days to allow time to confer with experts and gather the forensic and ballistic evidence they say authorities have neglected to process. 
VIDEO: Arizona rancher arraigned on murder charge for allegedly shooting and killing migrant
Christian crowdsourcing site GiveSendGo had picked up the fundraising baton for Kelly's bond and defense after GoFundMe booted all campaigns for the rancher from its site.
Kelly's attorney, Brenna Larkin, said she was unable to comment Thursday when asked about the rancher's release.
In court Wednesday, Larkin blasted prosecutors for charging Kelly with first-degree premeditated murder before a thorough investigation into the Jan. 30 shooting on the ranch he has shared with his wife, Wanda, for decades outside Nogales. The rancher was charged with two additional counts of aggravated assault Tuesday after prosecutors say two surviving victims stepped up and offered testimony. The state maintains Kelly shot an "unarmed" man in the back "in an unprovoked attack as he ran for his life" more than 100 yards from Kelly's residence.
MORE: Arizona border rancher accused of shooting at unarmed men; defense suggests drug traffickers bought testimony
But defense contends Kelly only fired "warning shots" into the air earlier that day after spotting armed man moving through trees by his home on the ranch. A defense filing alleged one of the armed men "pointed an AK-47 right at" Kelly, who called a Border Patrol Ranch Liason multiple times that fateful day. 
Larkin told the courtroom Wednesday that there's a "very large incentive structure for people to come forward and to have claimed to have been witnesses," noting the expectation of immigration benefits, as well as "pressure from traffickers who have an interest in blaming this event on Mr. Kelly." 
"Testimony is something that is bought and sold by drug traffickers the same way that drugs and people are bought and sold," Larkin said Wednesday.
Get updates on this story at FOXNews.com
Continued Coverage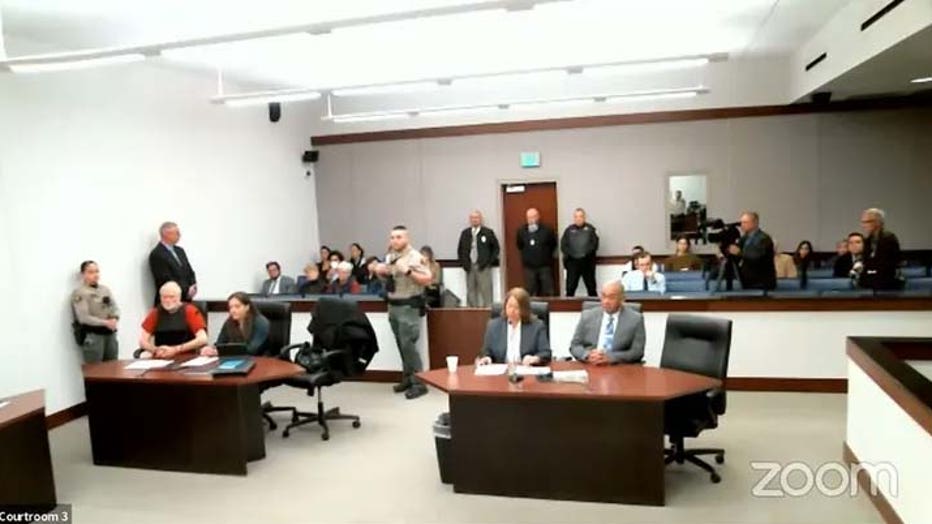 George Alan Kelly, 73, appears for a preliminary hearing on Feb. 22, 2023. (Santa Cruz County Court)