ASU alum doing his part to help veterans with PTSD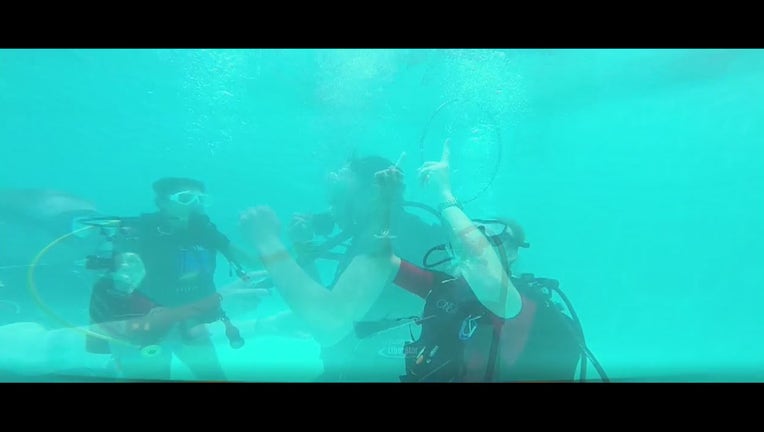 article
PHOENIX (KSAZ) - An Arizona State University alumni and Army veteran is doing his part to help his fellow military brothers and sisters.
After losing five members in his unit to suicide is just one month, Retired Master Sgt. Josh Grywza realized he had to do something to give veterans hope.
"Over a six-week period, five members that I deployed with, five service members, they reached a point in their lives where they felt the only option they had was suicide," he said. "And unfortunately in a six-week period, we lost five brothers."
In the two weeks after taping our interview with him, Grywza learned another one of his brothers took his own life.
"Every veteran writes a chapter in our nation's history and to survive deployment, or to be a part of a disaster relief mission or humanitarian aid mission, and to do such amazing things for this nation and the world, then to come home and to be in such a dark spot where you decide you're going to end your chapter by killing yourself, that's heart breaking," he said. "And even though I was around my family and friends and some of the closest people in my life, that day, that Sunday after my sister's wedding, I felt alone."
"I remember looking at my wife and calling my business partner, Ray, and said 'we have to do something,'" he added.
In just a few hours, they had a business plan for Deep Sea Marauders, with a special division for veterans called Deep Sea Valkyries. It's a dive business with a big purpose.
"As hard as it was each day to hear something like that, it really becomes the motivation for myself, my business partner and my wife to create a program to help veterans and help them beyond just counseling, but offer them an activity, offering them another adventure in life which they can turn to," he said.
I was honored to get a crash course in the beginning stages of training; to get a taste of what it's like to prepare for the voyage.
"It's more than just throwing on a tank and jumping in the water, there's training involved, there's the concept of working as a team because you're always partnered up with someone, so you have the concept as a battle buddy," he said. Everything from preparing to be on the dive where you're learning about the dive site, to inspecting the gear, your battle buddy's gear, the timelines that you set, it's all reminiscent of a military operation and I think every veteran can relate to that."
Having this renewed sense of purpose is vital. Statistics show returning to the civilian world after fighting a war is hard. Twenty-two veterans on average commit suicide in our country every day.
The question remains; why?
"Amongst my group of friends, we call it PTSI, Post Traumatic Stress Injury," he said. "I think anyone who deploys to a combat zone and witnesses their friends being injured or killed and to see the absolute destruction of war, I think not to return home with some sort of post traumatic stress...I don't think you can return home without it. So I don't see it as a disorder, it's an injury. It's a result of them sacrificing for their country."
"Our program, we recognize that Post Traumatic Stress is real and we don't judge veterans by it," he said. "I, myself, was diagnosed with it and I've decided to embrace it and share my experience with other veterans."
Along with commradery comes the retreat. It's a total getaway that allows our country's heroes to heal.
"Through corporate sponsorship and private donations, we fully fund our voyage for these veterans, so we will fly them from their home down to the Bahamas, and we take them on a one-week live abroad," he said. "It's a one-week retreat for these veterans."
"Every body finds peace, yet excitement because it's so quiet down there," he added. "You know you're diving with others, but you're able to clear your mind, and you're engaging in an activity that requires your focus, but doesn't put incredible stress on you to deter from that enjoyment."
"You can't beat it, you have that feeling of weightlessness and your worries tend to drift away with you bubbles," he said. "It's absolutely amazing."
Along with adventures in scuba diving, deep sea fishing and land excursions, comes the opportunity to talk and find support in a safe place.
"We want to come together and discuss those issues that an individual might be struggling with and we do provide professional counseling services on this trip," he said.
A needed outlet for our country's best, who without it, may not realize how much we need them to stick around.
"For all the potential corporate sponsorship out there and the donors, your generosity is what's going to make this happen and every dollar received is potentially saving another life," he said.
For more information on the program and to fill out an application for a trip to the Bahamas, click here.