California could be 1st state to ban the controversial term 'excited delirium'
SACRAMENTO, Calif. - A bill that would prevent the use of the term "excited delirium" in a death certificate or as a valid medical diagnosis is now headed to California Gov. Gavin Newsom. 
If the bill is signed into law, California would be the first state in the United States to ban the term, which has no consistent definition but often means that someone is extremely agitated, typically associated with drug use. Newsom has about a month to sign a slew of bills his desk. 
AB 360 passed in the state Senate on Monday; it had passed the Assembly in April.
Most of the time, the term is used to diagnose why a person died in police custody; "excited delirium" puts the blame on the person who died, rather than on police for using excessive force. 
For example, defense attorneys for former Minneapolis police officer Derek Chauvin said "excited delirium" was a contributing factor in George Floyd's death.
"It's about time," said Oakland civil rights attorney Julia Sherwin, who is a leading expert on the term and who served as a consultant in the Floyd case. "Excited delirium has been junk science from the start. It was perpetuated by racism. California needs to be the tip of the spear getting rid of this garbage. This is landmark legislation." 
The bill would forbid the use of the term "excited delirium" as a valid medical diagnosis or cause of death in California. It would prohibit coroners and medical examiners from listing it as a cause of death on a death certificate or autopsy report. It would bar law enforcement from using the term to describe the condition of someone in an incident report. And it would be inadmissible as evidence in civil actions. 
There were no formal opponents to the bill.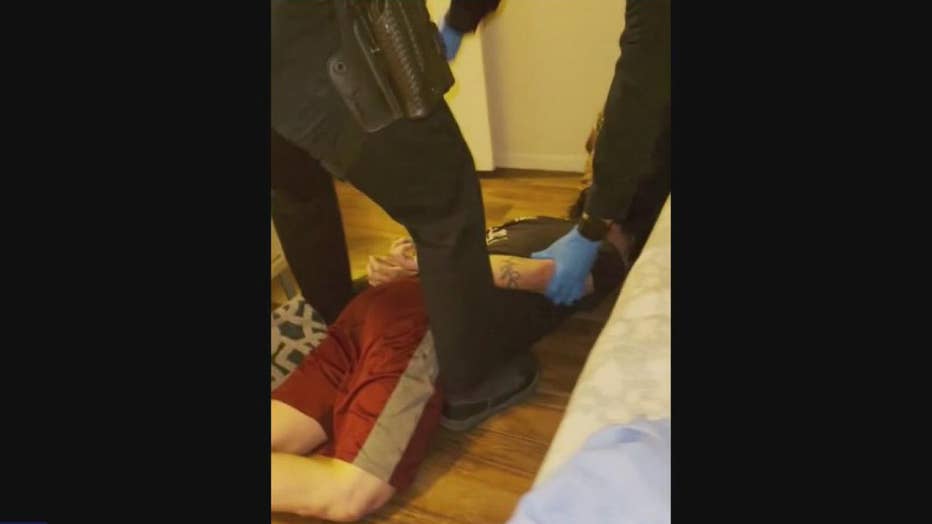 The bill was authored by Assemblymember Mike A. Gipson (D-Carson), who was inspired by the 2020 death of Angelo Quinto of Antioch. 
"This bill is important because, one, I want to correct something that has been incorrect for many, many years," Gipson said in an interview on Wednesday. This bill is important because of Angela Quinto, who was a United States Navy man who had a mental breakdown crisis and who was a victim of police force that caused him to pass away, that led to a coroner placing on the death certificate that he died from excited delirium." 
Robert Collins, Quinto's stepfather, said the fact that this bill could become law is very significant for his family.
He just met with another Contra Costa County family whose son died at the hands of police and whose cause of death was "excited delirium."
"So how does it make me feel? You know, in a situation like this, you don't really have a sense of justice or closure," he said. "At least it doesn't come easily. But for us, the idea is that if we can prevent other families from having to go through the same thing that we've gone through, then that's our semblance of justice. That means that Angelo's death was not in vain, at least for now."
Dr. Ikechi Ogan of the Contra Costa County Coroner's Office concluded that the 30-year-old Quinto died of "excited delirium" despite the fact that police knelt on his back for five minutes. 
Quinto's family had called police for help when the former Navy sailor was suffering from a mental health crisis. Police restrained him soon after arriving at the family home. He stopped breathing and died three days afterward. 
Sherwin said the finding of "excited delirium" harmed the Quinto family, who watched police sit on their son's back and where the county is now allowing "the officers to get away with it." 
His family members have long contended he died of "restraint asphyxia." But two years ago, a 15-member jury ruled the death an accident during a coroner's inquest. 
The Quinto family has sued the Contra Costa County Sheriff's Office over this term.
The sheriff's office did not respond for comment on the possible state ban of the term. 
Sherwin said this bill would also preclude experts and forensic pathologists from using the term in civil cases as well. 
She is currently headed to trial over the death of Mario Gonzalez who died in Alameda police custody. Forensic pathologist Dr. Judy Melinek "is trying to insert excited delirium" as evidence, Sherwin said, in the case.
Melinek didn't respond for comment. 
Excited delirium is not recognized by the World Health Organization, the American Psychiatric Association or the American Medical Association. 
The term was first coined in 1981 as two doctors tried to explain how many than 12 Black female sex workers died after consuming small amounts of cocaine.
However, those two doctors were wrong, their supervisor concluded. 
They had actually been murdered, actually strangled by a serial killer in Miami, and that the drug use had nothing to do with the women's death or so-called "agitated" state. 
Today, that same racist-tinged diagnosis still exists, Gipson said, noting that most people who die at the hands of police are people of color. 
And when this term is used to describe their death, it's just a big "coverup," Gipson said. 
As for being the first state in the country to possibly ban its use, Gipson said he's "grateful" that this is landmark legislation, but also disheartened that there was a need for this law in the first place. 
"I'm hoping that other states follow this model," Gipson said. "And use this as a template to create legislation that bans this its use in the United States of America."