Cotton blues: A number of factors affecting 1 of Arizona's 5Cs
PHOENIX - Cotton became a cash crop for Arizona, and today, our state remains a leading cotton state.
However, this year, the state's farmers are growing less of it.
Ron Rayner and his family have been farming for generations in the Goodyear area.
"There's an element of risk and that's a thing that a lot of people don't fully appreciate," Rayner said.
This year, farming cotton has been risky.
This year, a lot of farmers were probably thinking, cotton might not be as attractive because of the pricing," Rayner said.  "Even though it's not historically low, it still wasn't high enough to make up for the high increases we had in input costs."
Cotton from Arizona and four other states is shipped to and stored at a Phoenix area warehouse. CALCOT, a cotton marketing cooperative, sells it and ships it around the world.
CALCOT's President and CEO, Paul Bush, said price is a big reason why farmers are planting alfalfa or corn instead.
"We've seen a buildup in inventory, yarn inventory," Bush said. "So, cotton prices have come down from where they were about this time last year."
Inflation is also part of the equation.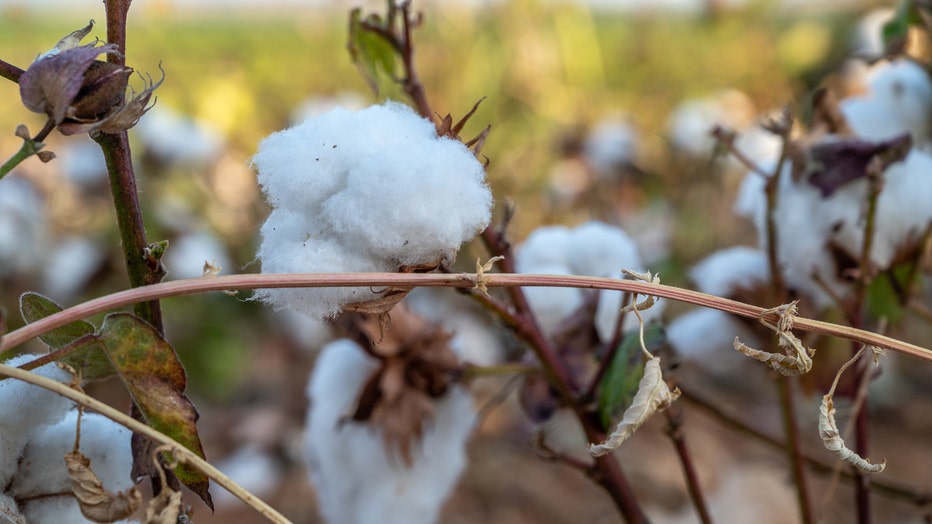 Cotton in the field (Photo by: Edwin Remsberg/VWPics/Universal Images Group via Getty Images)
"The cost of equipment has gone up with inflation," Bush said. "The cost of fertilizer has gone up, they're (farmers) dealing with higher costs and lower prices and that's not a good recipe for profit."
Bush says Americans are also holding onto the cash that they have.
"They're putting gas in the tank and food on the table with inflation, they don't buy as many clothe," Bush said.
It all adds up to about 25,000 fewer acres of Arizona farmland being dedicated to cotton. Rayner says next year could be different and regardless of how many acres are farmed, he's a big believer in the crop.
"Cotton to me has always been a beautiful fiber, natural,"  Rayner said. "People talk about plant-based foods, well these are plant-based clothes."
Bush says last year in Arizona about 100,000 acres of farmland was dedicated to cotton. This year it's about 75,000 acres.