13-year-old phenom becomes youngest soccer player to go pro in US history
SACRAMENTO, Calif. - A 13-year-old soccer phenom is now the youngest player to go pro in the history of American team sports.
At 13 years, 5 months and 13 days old, Da'vian Kimbrough has inked a deal with Sacramento Republic FC of the United Soccer League, one level below Major League Soccer.
RELATED: Watch: Terrified raccoon wreaks havoc in Utah soccer stadium during rain delay
"I wanna say thank you to my parents, my grandparents, who are always supporting me, everything I do," Kimbrough said this week when he signed the deal. "Always taking me to practices, games. I also wanna say thank you to all my coaches in this room, always pushing me, turning me, helping me grow to be the player I am today."
The 5-foot, 11-inch forward first joined the team's Youth Academy in 2021 when he was 11 – scoring 61 goals in his first two seasons. Kimbrough, of Woodland, California, also scored six goals this year when he suited up for the New York Red Bulls Academy team in international competition.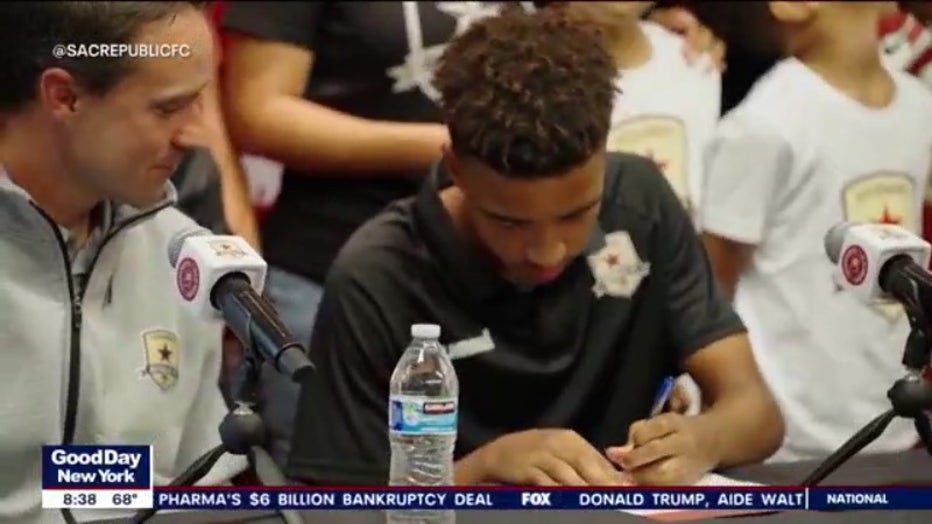 "It's unexplainable sometimes, like it's a feeling of just surrealness at the moment," Da'vian's mother Domonique said. "I know he worked so hard to get here, and to actually have a dream come true is breathtaking."
Kimbrough's training schedule will be modified, but he'll continue his studies while he competes with professional players.
"This is the epitome of what our football club is trying to produce: local talent, young players that have the opportunity to represent this crest that we're all wearing," Sacramento Republic FB head coach Mark Briggs said.
READ MORE: From collapse to comeback: How Lebron James's son and Buffalo Bills safety beat the odds after cardiac arrest
Kimbrough is eligible to make his debut for the club on Saturday.
"Da'vian's journey with Republic FC is just beginning. He is a remarkable talent who has committed to his dream of becoming an elite player, from competing with players in older age groups and thriving at top competitions, to stepping on to the first team training grounds," said Republic FC President and General Manager Todd Dunivant. "We are honored that the Kimbrough family and Da'vian have chosen Republic FC to support his professional pathway, and we look forward to taking the next steps together."
Maximo Carrizo signed with Major League Soccer's New York City on his 14th birthday on Feb. 28, 2008. He has yet to make his MLS debut, according to The Associated Press.