Jimmy Carter's grandson shares health update on former president and first lady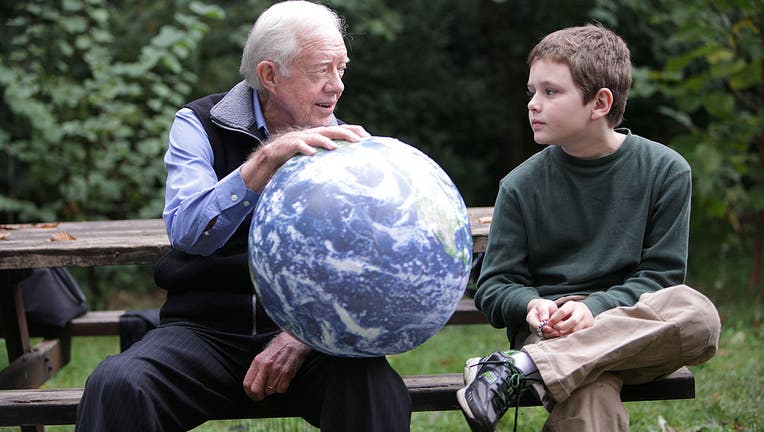 article
PLAINS, Ga. - Jimmy Carter's grandson has shared new details about the health of the former president and first lady Rosalynn Carter.
During an interview with Entertainment Weekly, 24-year-old Hugo Wentzel said that he and his family have been "staying close" and that his mom Amy Carter has been spending a lot of time with the former president at his home in Plains, Georgia.
"He's pretty sick. He still does use his brain. He listens to audiobooks. He's a genius. He's super smart. I love him," Wentzel said. "He always wants to be doing something with his mind, so he's trying to keep himself busy, but he is really sick and getting older.
As for his grandmother, Wentzel says that, while she does forget what's going on sometimes, "when she remembers, it's amazing."
"I want everyone to know how incredibly important and beautiful she is as a person and a grandma," he said.
Wentzel recently gave a moving speech about his grandparents after his elimination from the reality TV show "Claim to Fame."
"He led America and my family very well," Wentzel said on the show. "I stand for everything he stands for. He believes in equality for everyone, regardless of race, class, gender, anything. He's just an amazing person. I aspire to be like him one day."
Mentioning his grandfather's health, Wentzel said he "will do everything I can to keep [his] legacy alive."
While Wentzel says he has many amazing memories of his "Papa," he was really touched by one time he visited Carter recently.
"I had a really long talk with him, semi-recently, and the biggest takeaway was just something basic, but I do apply it in my life. He just said, 'When you start something, just don't stop doing it until it's done,'" Wentzel told People. "I feel like people say that a lot, but hearing him say that to me, especially [with] the stuff he's accomplished, I really took it to heart, and that's one of my principles for my life at this point." 
Jimmy Carter is 98 and has been in home hospice care since February. The former first lady is 95 and has dementia. The Carter family has shared few details of either Jimmy or Rosalynn Carter's condition but has said they both have enjoyed time with each other and a stream of family members, along with occasional visits from close friends, in recent months.
The Associated Press contributed to this report.