Armed robbery suspect now in custody after escaping Phoenix police facility
PHOENIX - An armed robbery suspect who escaped from a Phoenix police facility early Friday morning has been caught, officials said.
Police say 20-year-old Tyler Woodward escaped from a building near Central Avenue and Elwood at 1 a.m. on Oct. 22. He did it as he was being transferred from a police car into the police building.
Police say Woodward managed to move the handcuffs from his back to his front, making it easier to run away. He was spotted with his hands down the front of his pants to try to conceal the handcuffs.
When they caught him, the handcuffs were still on. 
Woodward was wanted in connection with an armed robbery on Oct. 10 near Seventh Street and Bell Road.
He was taken back into custody near 7th Street and Elwood Friday afternoon, police said. Police say he was under cardboard behind a dumpster next to a large beige building just a few blocks from the police station.
"Someone called said they saw him walking in the area so we just flooded the area and got him in custody," said Sgt. Jeremy McClimans with Phoenix PD.
Woodward is no stranger to police in Phoenix, or across Arizona.
"Outside agencies that also have where he's maybe a person of interest in some of their investigations. He has been arrested numerous times in this jurisdiction," said Sgt. Andy Williams with Phoenix PD.
The makeshift hideout was good enough to evade officers, including K-9 officers and a helicopter, during the initial search.
There was fear Woodward would cover his trademark tattoos in makeup to hide his identity, which he's been known to do.
In the end, he was caught three blocks from the police station and less than 12 hours after his getaway.
"Got him in custody and hopefully he doesn't get out of custody again," McClimans said.
Police say Woodward was originally tracked down in the Lake Havasu area and may be a person of interest in other crimes in that area as well.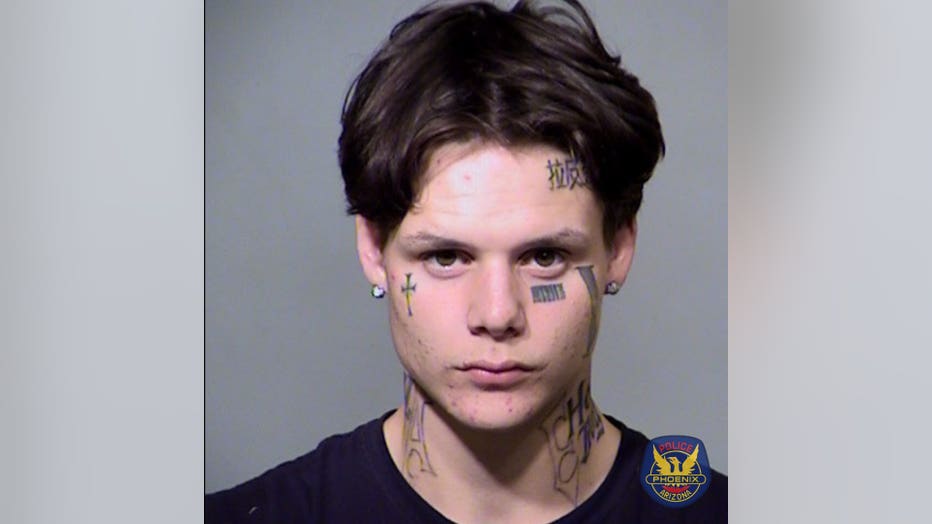 Tyler Woodward (Phoenix Police Department)
More Arizona headlines
For the latest local news, download the FOX 10 News app.
Tune in to FOX 10 Phoenix for the latest news: