Monsoon 2023: Storm downs Phoenix power lines; Falcon Field Airport planes damaged
PHOENIX - A monsoon storm Tuesday night ripped through the Phoenix metropolitan area, tearing down power lines, flipping over airplanes and causing some serious damage to buildings.
According to the National Weather Service, the storm developed at around 7 p.m. Tuesday night and moved eastward from Phoenix to Apache Junction. Severe winds and hail were reported, with some areas receiving anywhere from 60 to 90 mile an hour gusts.
Officials say the worst damage happened in Scottsdale, Mesa and east to Apache Junction.
Another brief round of storms moved east of Phoenix Wednesday morning, bringing more hail and rain.
Downed power lines
During the evening hours, another round of storms moved through the West Valley and into areas near the heart of the city. Downed power lines were reported in the area of 19th Street and Oak.
A total of 12 poles in the Phoenix neighborhood were knocked down due to last night's storm.
Power has been turned off in the area as crews work to repair the damage.
"The biggest blast you ever heard," recounted one neighbor. "Like I don't know if it was those or thunder, but it knocked my senses out. I lost sense of the situation because I've never been hit by a power line before."
Damage at Falcon Field Airport
The East Valley felt the brunt of the monsoon, and planes at Falcon Field Airport in Mesa were damaged.
The roof of the facility was ripped apart by fierce winds, and two different structures sustained heavy damage.
Planes parked outside were overturned. Some were even blown across the tarmac.
Storm damage at Falcon Field Airport.
Carport collapse in Scottsdale
Homes in the Valley also suffered some damage, with one Scottsdale neighborhood getting a big scare from the monsoon.
Crews weren't sure if they were looking at a roof or a carport after it tore off the side of a home near Scottsdale and McDowell roads.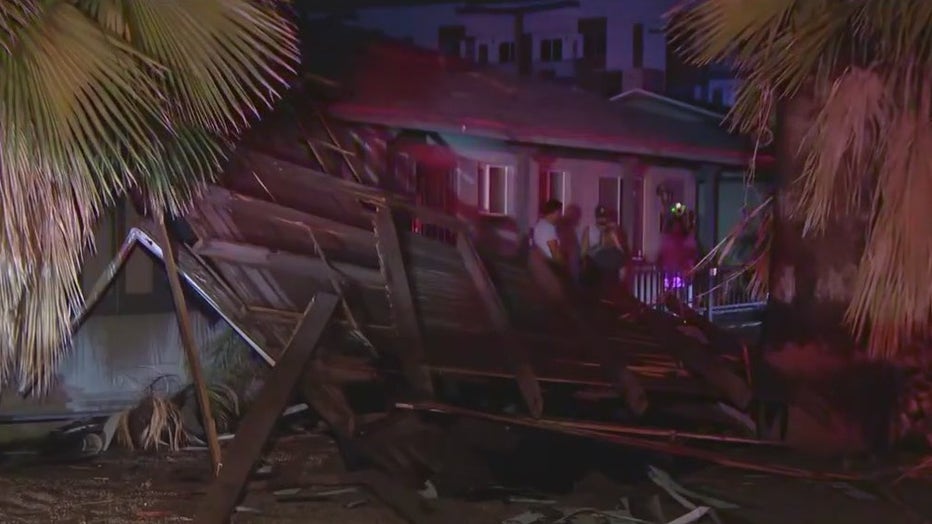 A neighbor said that she has never seen a storm quite as powerful as what hit last night.
"This was the craziest storm I witnessed," said resident Lesley Micuda. "Oh my God their whole roof came off…so it was the carport from the back that went flying over all our units and landed out front."
There are no reports on injuries in the neighborhood as a result of the storm.
Power outages
Utility companies have also reported power outages, affecting tens of thousands of customers Tuesday night.
Get the latest weather updates by downloading the FOX 10 Weather app, which is available on iOS and Android.
Latest updates
10:08 a.m.
Significant rainfall over the past 24hrs across portions of central AZ, with 1-2" falling along a line roughly from Black Canyon City - Payson - Alpine. Areas already saturated will have a greater chance to flood as storms continue today and tomorrow. - NWS Flagstaff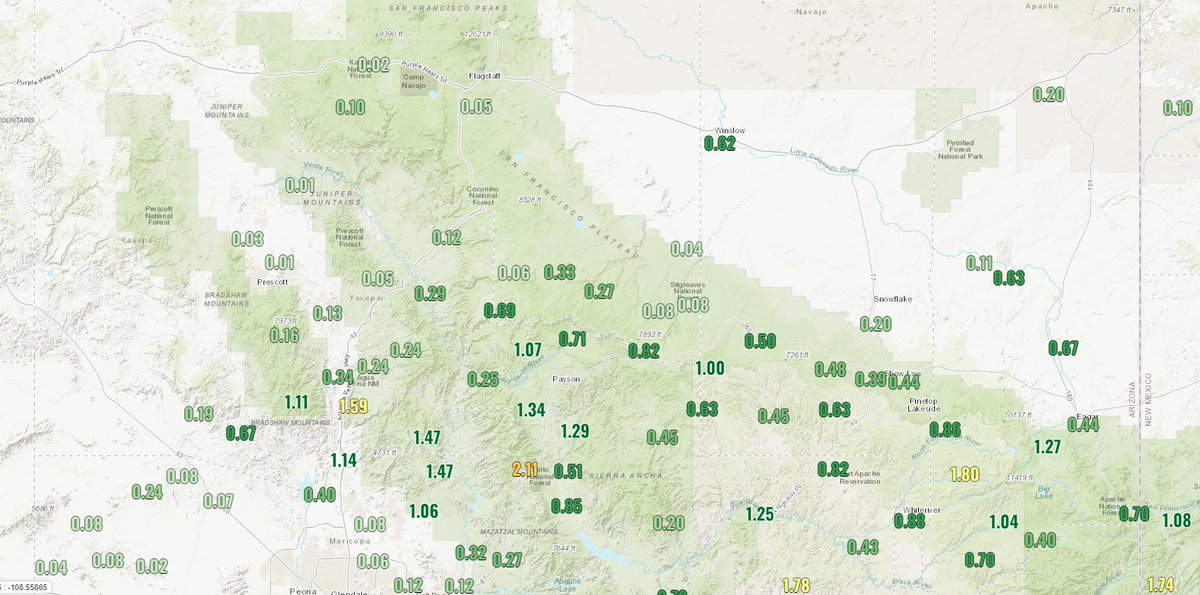 8:25 a.m.
Thunderstorms with heavy rain continue across the higher terrain east of Phoenix. Multiple Flash Flood Warnings as well a flood advisory are in effect. Please exercise caution as there can be flooding. If encountering a flooded roadway, turn around, don't drown! - NWS Phoenix
7:35 a.m.
It's been an active start to the morning across eastern Maricopa County. Strong/severe storms brought localized heavy rain, hail, & strong winds to parts of Mesa, Scottsdale, Cave Creek, & the Salt River. - Flood Control District of Maricopa County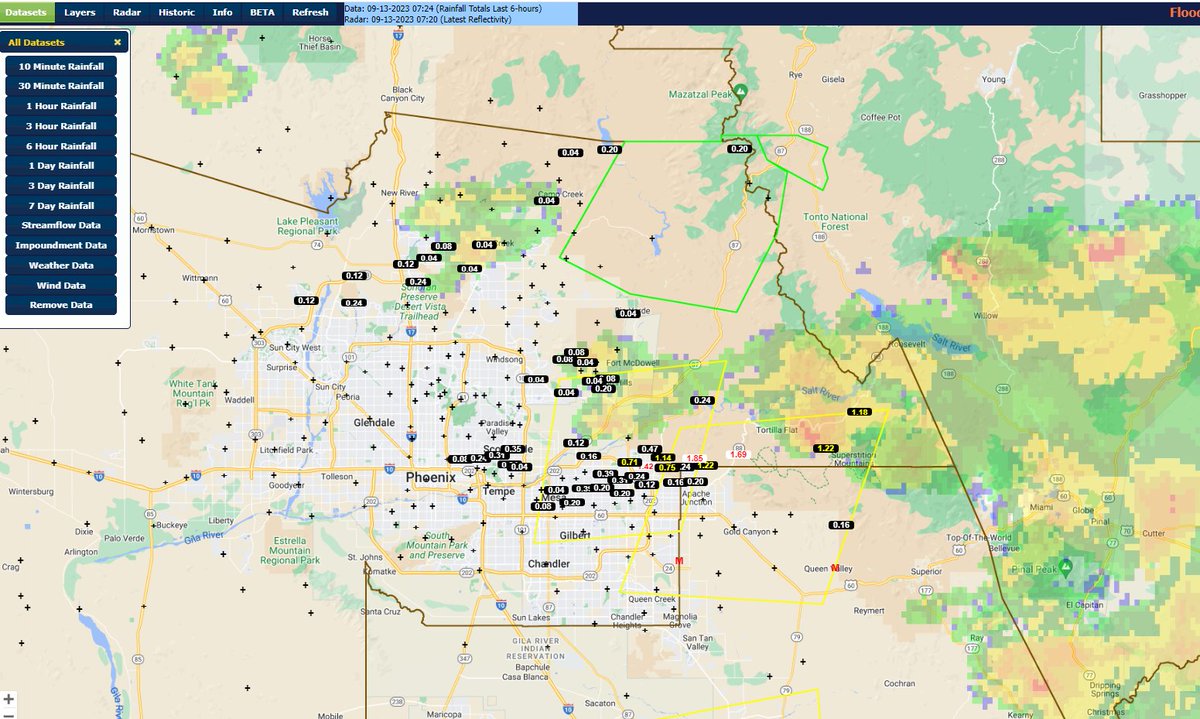 6:55 a.m.
Thunderstorms have erupted across the foothills/higher terrain as well as portions of the Phoenix area. Strong gusty winds, heavy downpours, frequent lightning, and some small hail will all be possible with this activity for the next couple of hours. - NWS Phoenix
6:47 a.m.
5:58 a.m.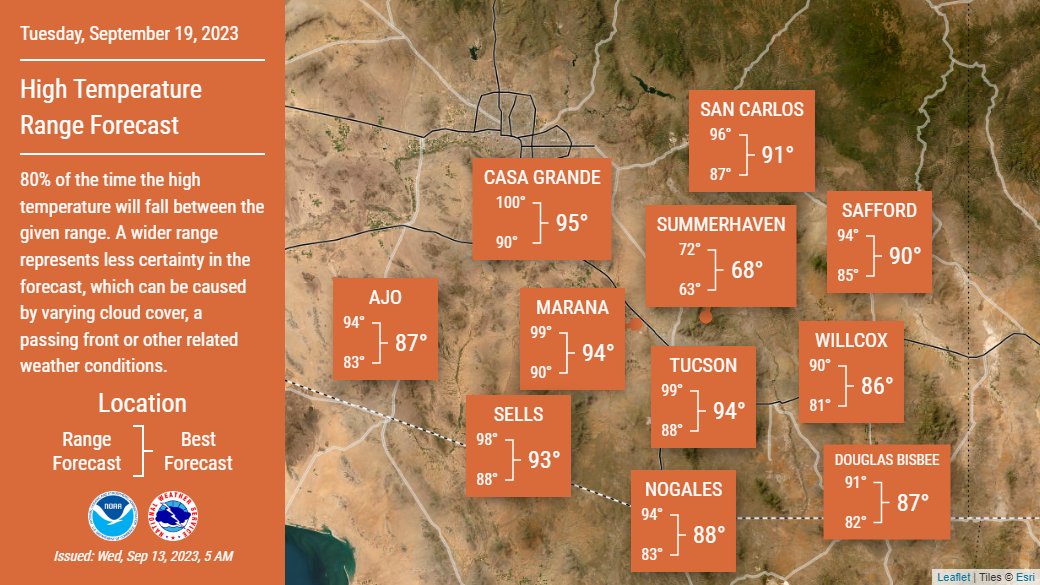 Cooler, below-normal, high temperatures are forecasted across southeastern Arizona today with a 40-60% chance for storms and showers, predominantly from the Tucson area northeastward. - NWS Tucson
5:57 a.m.
A line of thunderstorms have developed from Mesa northeastward to just north of Apache Junction. Expect some gusty winds and heavy downpours as well some frequent lightning to accompany this activity. - NWS Phoenix
5 a.m.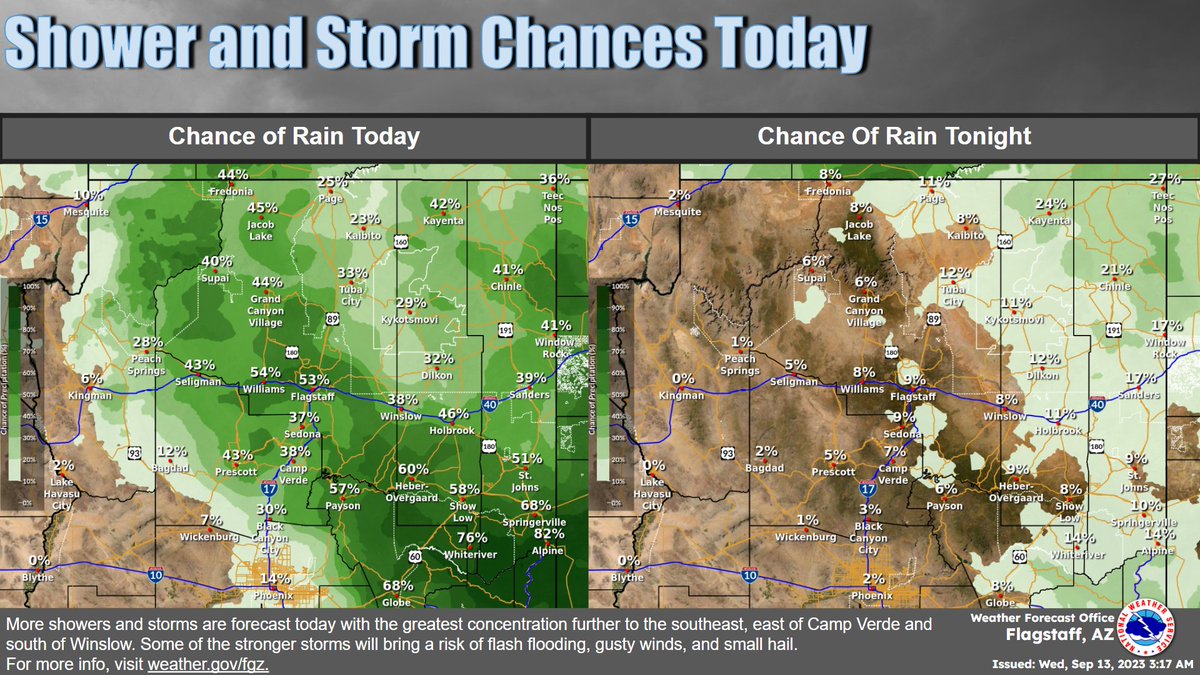 More showers and storms are forecast today. Coverage will be more isolated to scattered across N. Arizona except to the SE where coverage will be more numerous. The primary threat with storms is flash flooding, but lightning, gusty winds, and small hail are also possible. - NWS Flagstaff
Be prepared and stay safe during the monsoon
"Most Valley residents know how quickly and furiously storms can move in and out, bringing strong winds, dust, rain, and flash flooding. These storms can cause interruptions in services, such as water, power, and gas," stated Captain Ashley Losch of the Glendale Fire Department.
GFD reminds residents of ways they can be prepared and stay safe:
Have flashlights with extra batteries on hand.
Have food that can be prepared without the need for cooking or refrigeration.
Have at least one gallon of clean water for each person in the household.
Have backup power for anyone requiring power for a medical device.
Have backup power for cell phones that do not require charging.
Have a first aid kit ready and accessible.
Never drive into areas with flowing water; it takes less than 10 inches to wash a car away.
Avoid flooded areas, such as washes.
If waters are rising, seek higher ground.
Do not approach downed power lines, the ground can be energized for up to 200 feet.
Keep pets indoors during storms.
Satellite and radar image