Alleged carjacker shot, killed by Phoenix police in Glendale
PHOENIX - An alleged carjacker has died after he was shot by Phoenix police officers in a neighborhood down the street from Westgate Saturday night.
Authorities were called to an area near 85th Avenue and Indian School Road at around 6:40 p.m. after a ride-share driver reported that his car was stolen at gunpoint.
Investigators used the stolen vehicle's GPS tracking capabilities and tracked it down to a neighborhood near 91st and Glendale avenues.
"Officers were able to identify a house in the neighborhood that the suspect was seen going into," said Sgt. Brian Bower with Phoenix PD. "Containment was established on the house, and during negotiations an adult female came out confirming that the suspect was inside."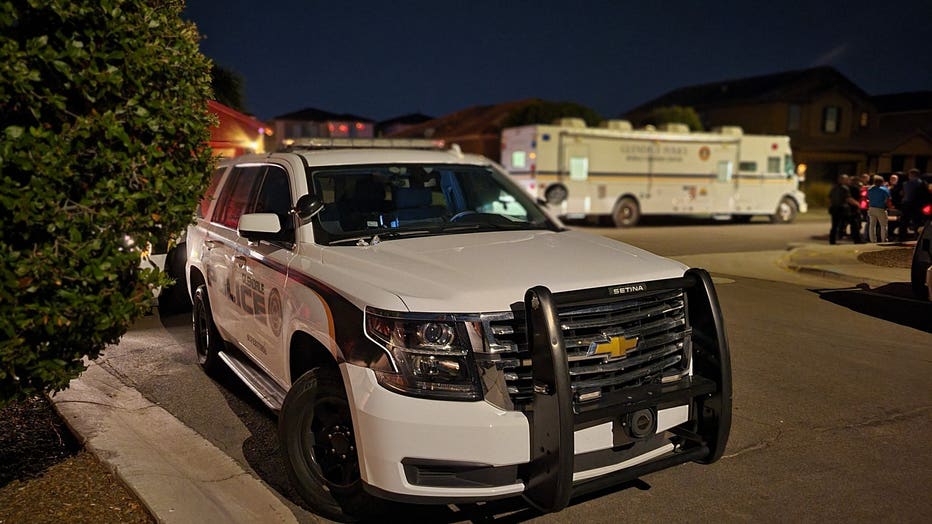 The scene of a shooting investigation near 88th Drive and Glendale Avenue.
Eventually, the suspect walked outside to a driveway, pulled out a handgun, and pointed it at several officers, police said.
Three police officers opened fire at the suspect in response, killing him.
There were a strong odor of gas in the home, according to Sgt. Bower, but it's not clear where the smell came from. The scene was deemed safe enough for paramedics to respond.
The suspect was identified only as 26-year-old Robert Crockett.
Glendale Police is now investigating the case, and Phoenix PD plans to conduct a separate administrative investigation.
Map of where the shooting happened: