2 arrested in deadly west Phoenix strip mall shooting
PHOENIX - Two people have been arrested, including a teenager, after a shooting at a west Phoenix strip mall left a man dead.
Police say the shooting happened at about 6:30 p.m. on Sept. 13 near 59th Avenue and McDowell Road.
Once at the scene, officers found 30-year-old Jesus Gonzalez Berrelleza, who had been shot. He was pronounced dead at the scene.
Investigators obtained surveillance video from nearby businesses and eventually arrested 20-year-old Gilberto Millan in connection to the shooting. A second teenage suspect was arrested at a different location.
"Early information indicates there was an argument involving Jesus, an unknown male, and Gilberto at a restaurant," Sgt. Melissa Soliz said in a statement. "At some point the teenaged male arrived at the location. Gilberto retrieves a firearm from the vehicle driven by the teenage male. The shooting occurs, and Gilberto and the teenage male leave the area."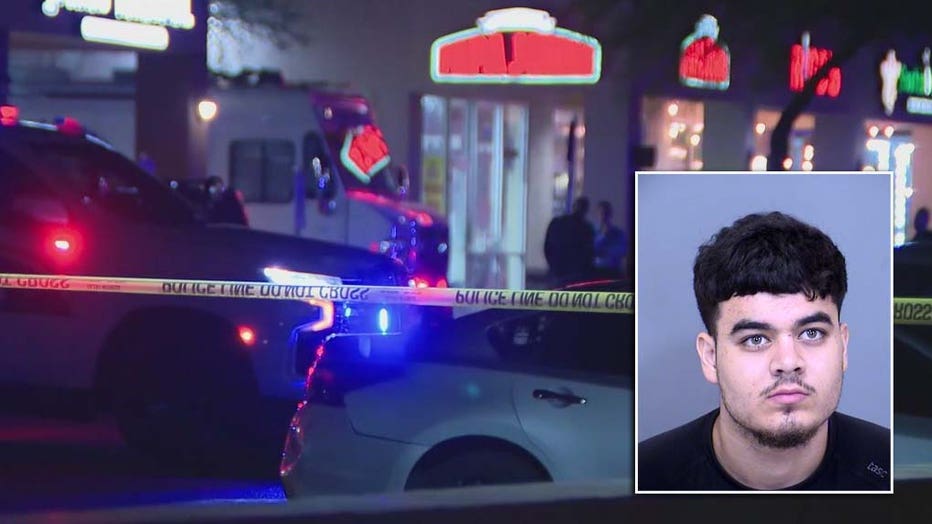 Gilberto Millan, 20, was arrested in connection to a shooting at a west Phoenix strip mall left a man dead.
Millan was booked into jail and is accused of first-degree murder.
The teenager was detained at a juvenile correction center. He is accused of facilitation to commit first-degree murder.
Anyone with information about this shooting is asked to call Phoenix Police at 602-262-6151.
Related reports: