Prosecutors: 3 face terror charges in Las Vegas in right-wing conspiracy to spark protest violence
LAS VEGAS (AP) - Three Nevada men with ties to a loose movement of right-wing extremists advocating the overthrow of the U.S. government have been arrested on terrorism-related charges in what authorities say was a conspiracy to spark violence during recent protests in Las Vegas.
RELATED: President Trump says US will designate 'Antifa' as a 'terrorist organization'
Federal prosecutors say the three white men with U.S. military experience are accused of conspiring to carry out a plan that began in April in conjunction with protests to reopen businesses closed because of the coronavirus and later sought to capitalize on protests over the death of a Minneapolis man in police custody.
They were arrested Saturday on the way to a protest in downtown Las Vegas after filling gas cans at a parking lot and making Molotov cocktails in glass bottles, according to a copy of the criminal complaint obtained by The Associated Press.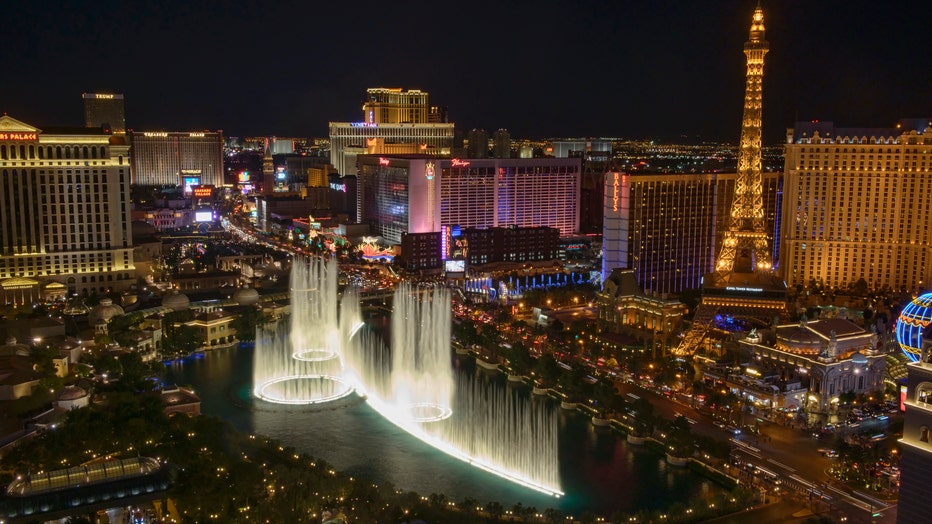 [UNVERIFIED CONTENT] The Strip and Bellisario Fountains at night in Las Vegas, Nevada
The complaint filed in U.S. District Court in Las Vegas on Wednesday said they self-identified as part of the "boogaloo" movement, which U.S. prosecutors said in the document is "a term used by extremists to signify coming civil war and/or fall of civilization."
RELATED: Man seen brandishing bow, aiming arrow at protesters in Salt Lake City
Stephen T. Parshall, 35, Andrew T. Lynam Jr., 23, and William L. Loomis, 40, were being held on $1 million bond each in the Clark County jail Wednesday, according to court records.
Each currently faces two federal charges — conspiracy to damage and destroy by fire and explosive, and possession of unregistered firearms — along with multiple terrorism-related state charges.
Court records don't list lawyers for the men.