Crime Files: Tempe man arrested after roommate fight leaves 1 dead
TEMPE, Ariz. - A fight between roommates in Tempe escalated into a deadly shooting Saturday night, police said.
The shooting happened near McClintock and Watson Drive at around 9 p.m., and the suspect, identified as 28-year-old Michael Aaron Coupland, is now accused of second-degree murder and endangerment.
Here are the details in this case.
What happened?
According to court documents, the incident happened at around 8:44 p.m. on Aug. 19, at a home in the area of McClintock and Watson Drives in Tempe, which is located to the north of the major intersection of Guadalupe Road and McClintock Drive. 
The suspect, investigators allege, shot a 28-year-old in the chest when he reportedly balled up his fists, and was going to punch or strike Coupland during an argument.
The 28-year-old, referred to in court documents as Victim #1, was shot in the chest and died at the scene, according to investigators. The victim has since been identified as Chase Dunphy.
A second victim, identified as Coupland's girlfriend, also suffered a gunshot wound to her hand, investigators said.
"After the shooting occurred, Coupland drove Victim #2 away from the scene to take her for treatment for her wound, but police stopped them near Evergreen and Southern Ave. in Tempe," read a portion of the court documents. "When police stopped the vehicle, they observed a semi-automatic pistol in the center console of the vehicle."
What led to the shooting?
In an interview that was done after Coupland was read his Miranda rights, investigators said he has known Dunphy for about a year, and has lived at the crime scene for about two weeks with the 28-year-old, his girlfriend, and two others who were not at the home when the shooting happened.
"Coupland said he and Victim #2 were moving some items into the residence at approximately [8:00 p.m.] when an argument ensued between [Dunphy], Coupland, and Victim #2 after Coupland and Victim #2 asked [Dunphy] to turn down his music, which was playing loudly," read a portion of the court documents. "[Dunphy] allegedly became belligerent, yelling at Coupland and Victim #2 about the home being his, and his ability to do whatever he wanted regarding the music volume."
That argument, according to investigators, came to an end when everyone apologized. Later, Coupland said he was taking a shower with his girlfriend when they heard Dunphy throwing and breaking things in the living room area.
"Victim #2 exited and went to confront [Dunphy] about his behavior and breaking items in the home. Coupland said he heard them both arguing and in response, he retrieved his semi-automatic 9mm pistol from his room and went to the living room to confront [Dunphy]," read a portion of the court documents.
Coupland, according to investigators, alleged that Dunphy pushed Victim 2, and pushed Coupland himself after he entered the living room.
"Coupland said in response, he drew his firearm, displaying it in a manner [Dunphy] could see, and he ordered [Dunphy] to leave, saying he needed to be removed from the lease for the home due to his behavior," read a portion of the court documents.
Investigators said Dunphy then yelled at Coupland for pulling a gun on him, and the two pushed one another. Victim #2, according to investigators, also stepped in and pushed Dunphy away a couple of times.
"Coupland said [Dunphy] began to chase [Coupland] as [Coupland] ran out of the front door of the house. Coupland said he saw [Dunphy] ball his fists and approach him, at which time Coupland said he fired a shot from his pistol at [Dunphy]," read a portion of the court documents. "Coupland said when he did this, Victim #2 had stepped between [him] and [Dunphy] for at least the third time to separate the two and push [Dunphy] away. Coupland said this occurred as he fired his gun, and Victim #2 was struck by the same shot that struck [Dunphy]."
A pet sitter staying at a home locat ed next to the crime scene heard the whole thing, according to the person who lives in the home.
"She was in our guest room," said Stephanie Booker. "She heard fighting, and she heard a girl screaming that someone was hurting her. Then she heard gunshots, and my friend went into the hall and just stayed there, and then she heard the car leaving. I know new people had just moved in - and we waved at each other - they seemed nice, but you never really know your neighbors."
Investigators said that Coupland admitted to knowing that [Dunphy] was not armed, and that [Dunphy] was intoxicated from alcohol consumption, as he had been slurring his words when he spoke.
"Coupland did not provide any details to indicate [Dunphy] was a threat to his life or would cause serious physical injury, but he claimed he thought if [Dunphy] was to strike him, that [Dunphy] would take his gun away from him," read a portion of the court documents.
What is Coupland accused of?
Coupland is accused of:
Both alleged offenses are considered to be felonies under Arizona law.
What's next for Coupland?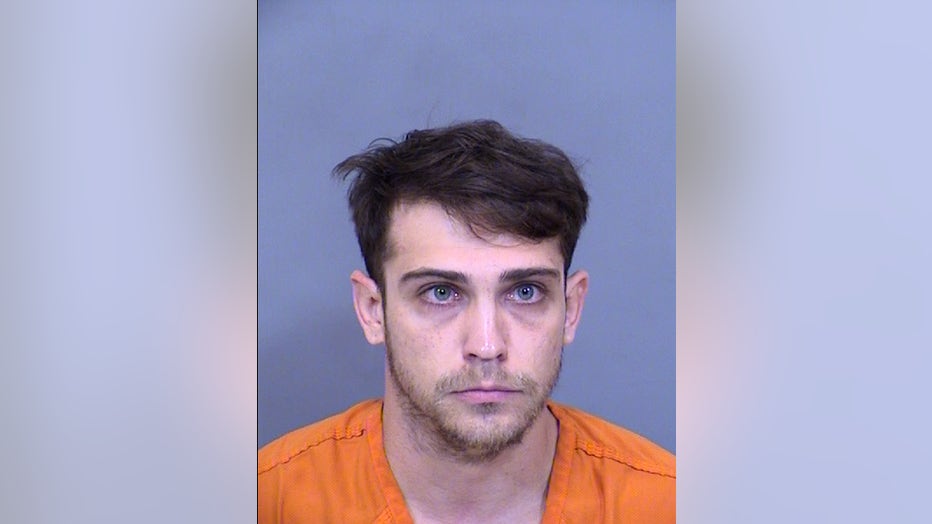 A judge has set a $500,000 bond for Coupland, and should he make bond, Coupland will be required to undergo electronic monitoring.
A preliminary hearing, meanwhile, has been scheduled for Aug. 29.
Where the incident happened