Summer spending at bars & restaurants soars as Americans overlook inflation, recession fears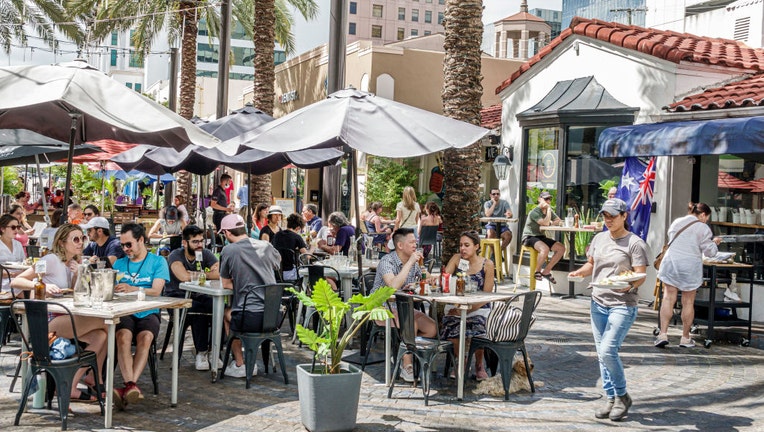 article
NEW YORK - Americans didn't let persistent inflation and lingering worries about a recession cut into summer spending on eating and drinking out.
Retails sales at restaurants and bars surged from May through July compared with a year ago, despite prices remaining relatively elevated for restaurants and bars. Sales in the sector jumped 11.8% in July and 9.5% in June from a year ago, according to the Commerce Department.
Inflation has been generally falling and broadly relieving pressure on consumers, but prices for food and alcohol outside the home have remained relatively stable. Consumers also seemingly ignored recession concerns that hung over the economy for most of the year.
RELATED: US inflation has cooled, but getting it down to the Fed's target rate will be the toughest mile
"The continued strength of the consumer to start the second half of the year is a good sign for the health of the economy and a recession remains unlikely as long as consumers keep spending," said Sam Millette, fixed income strategist for Commonwealth Financial Network, in a note to investors.
The spending surge for dining out has been partially reflected in the latest earnings results from restaurant companies including Olive Garden owner Darden Restaurants and Mexican food chain Chipotle.
Darden reported profit growth of 11.7% and Chipotle reported 34.2% profit growth. Taco Bell owner Yum Brands and Starbucks also reported solid earnings growth. Restaurants were big contributors to the broader consumer discretionary sector posting profit growth of more than 50% while the overall S&P 500 is forecast to close out the latest round of earnings with a 4.6% contraction.
The sector that includes restaurants is expected to report 20.3% profit growth during the current quarter, with those same big restaurant chains remaining a driving force. Wall Street expects the broader S&P 500 to report profit growth of less than 1%.
RELATED: Inflation forcing Americans to spend $709 more per month than 2 years ago: economist
Inflation itself has played a role in rising restaurant sales, but the recent spending trend has occurred during a time of slowing menu price growth.
"Sales growth wasn't primarily driven by higher menu prices, as it was for much of the past year," the National Restaurant Association said.
Upbeat forecasts for the sector are partially reliant on inflation and recession fears continuing to ease. The labor market remains strong and economists credit employment and wage growth with helping to shield the broader economy from a recession over the last year.
There are still several potential bumps ahead that could trip up consumers, though. The cumulative impact of high prices could derail spending. The unpredictability of prices for necessities like gasoline and groceries could also prompt people to spend less on dining out. Economists are also worried about the resumption of student loan payments in the coming months cutting into consumers' ability to spend.