#TidyingUp: Netflix show inspiring people to declutter their homes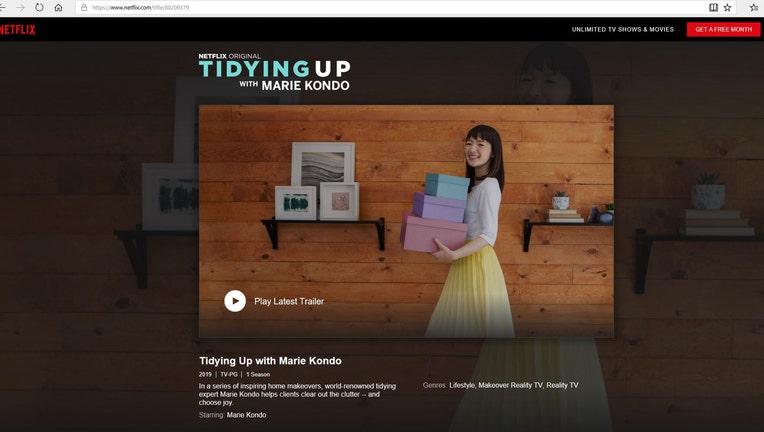 PHOENIX (FOX 10) -- Do all of your clothes and items in your house spark joy in your life? If the answer is no, then you should throw them all away!
At least, that's according to one Netflix reality show that's hitting the social media waves like a storm.
When people think about cleaning up and organizing their homes, most people think of it as a chore, but the new show, Tidying Up with Marie Kondo, is making decluttering your house seem like something that will bring you joy, peace and happiness, and it's inspiring so many people to do it!
After the Netflix series made its debut, the hastag #TidyingUp is trending. The host, Marie Kondo, says she swears by her "Konmari" method, where you hold each item and think to yourself: does this item bring me any spark or joy? If the answer is no, then the item goes in the donation pile. In fact, there is a humorous conspiracy theory floating around that Marie Kondo is a fictional character created by Goodwill Industries to get people to to donate half of everything they own.
Speaking of Goodwill, the Marketing Manager in Phoenix, Lea Graham, said she has watched the show as well.
"I really enjoyed it. It's an entertaining show in general, and it really helped break down how simple it is, to go through your home. How you don't have to take on everything at once. You can divide it into different areas," said Graham
As for whether there is a direct correlation between more donations and Kondo's show, that is uncertain.
"We do usually see an uptick on donations during the end of the year, that's just with new year's resolutions, cleaning things out, getting a tax receipt," said Graham.
Goodwill managers say they're still waiting for the final January numbers. However, social media posts say it all, that for the first time ever, tidying up your house is now considered a cool and hip thing to do. In addition, since the show aired, the words "Marie Kondo" and "Komari Method" are pulling in more than 700,000 page views a day.