Bernie's slide mishap: Dodgers reporter breaks arm, fractures ribs
MILWAUKEE - The Milwaukee Brewers took down the Los Angeles Dodgers on Thursday, but it wasn't the only win for the Brew Crew – Bernie's Chalet won a battle against the team, too.
David Vassegh, host of "Dodgers Talk," thought he was up for the challenge of Bernie's infamous slide. He quickly learned, though, that some things are better left for the experts.
"That Bernie slide is a lot more dangerous than it appears," he said.
RELATED: Check out the new and improved FOX Sports app
Bernie's Chalet is above the American Family Field stands in left field. The mascot slides down it to celebrate the team's home runs.
"Trying to be too much of a stuntman and exaggerate the fall, turned out to be a real fall," said Vassegh.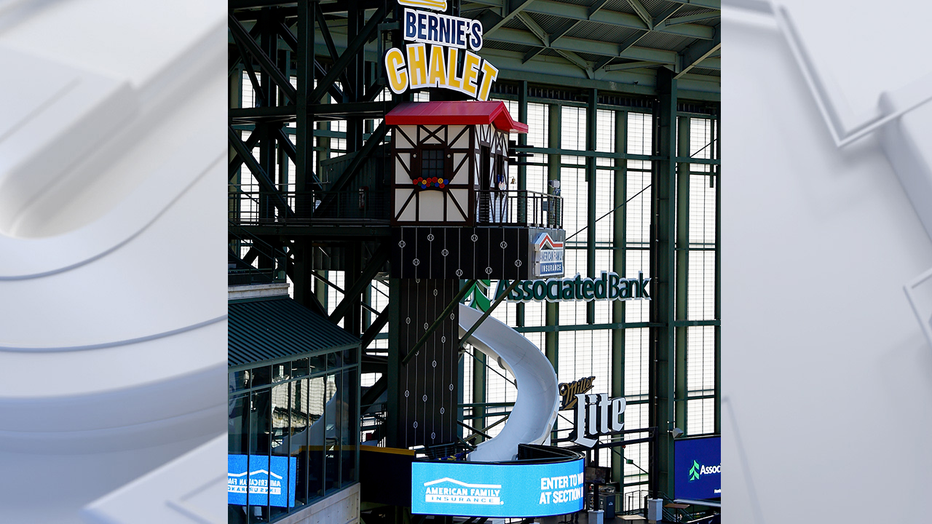 Bernie's Chalet (Photo by John Fisher/Getty Images)
The first time Vassegh attempted the slide, he was filmed at the top and everything went fine. Then he went down again, so he could get footage of him coming down. 
That's when the problem occurred. Vassegh went sideways, and his right arm crashed into the padding. He left with a fractured hand and six fractured ribs. 
SIGN UP TODAY: Get daily headlines, breaking news emails from FOX6 News
Sliding isn't as easy as it looks. Now, nobody knows that better than Vassegh. As he searches for answers, FOX6 News started investigating – and spoke to some sliding experts.
"Put your feet down first," said 5-year-old Olivia.
"I like (arms up) and then swing down," 8-year-old Liam said.
"Sit down correctly and make sure your shoes and skin don't touch the slide," said 7-year-old Britta.
FREE DOWNLOAD: Get breaking news alerts in the FOX6 News app for iOS or Android.
Before Thursday's game, Bernie Brewer himself have Vassegh instructions for next time.
"Maybe next year when I come back here, I'll conquer the slide," Vassegh said.
The experts FOX6 spoke to said, maybe, there shouldn't be a next time.
"They're older, and they forgot to slide in their childhood because they went to college," 10-year-old Nayla said of adults properly going down slides.
Vassegh said he has a date with a hand specialist Friday, Aug. 19 in Los Angeles.
Bernie Brewer greeted Vassegh with flowers and a sign that read "0 Days Since Last Incident." He also gave Vassegh a "Slide Instruction Manual" that read "It's really not that hard."
Dodgers third baseman Justin Turner sent out a tweet poking fun at Vassegh over the situation.
Vassegh said he received over 200 texts from friends and players since taking his tumble.