Messi scores dazzling goal in MLS debut, leads Miami over Red Bulls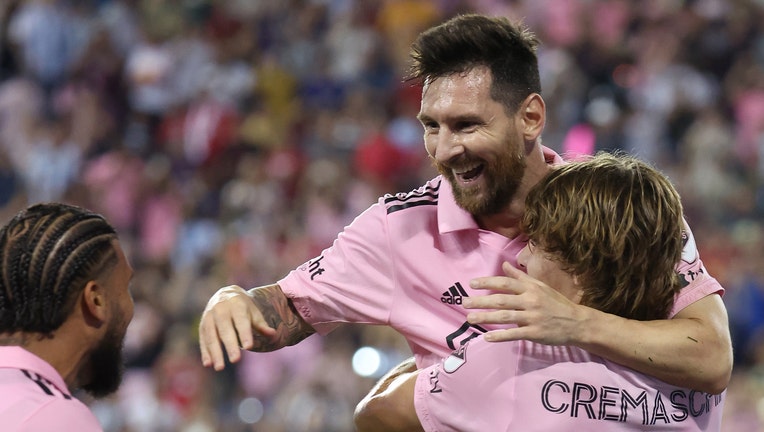 article
Lionel Messi scored a dazzling goal in the 89th minute of his Major League Soccer debut, helping Inter Miami beat the New York Red Bulls 2-0 on Saturday night and end an 11-match league winless streak.
Forty-eight years after Pelé joined the North American Soccer League's New York Cosmos in an effort to jumpstart soccer in the United States, the seven-time Ballon d'Or winner entered in the 60th minute to huge cheers.
Messi scored with the help of a pair of former Barcelona teammates.
RELATED: Messi's Instagram post after World Cup win makes social media history
Jordi Alba made an acrobatic leap for Sergio Busquets' cross and with his back to the ground and left leg raised, Busquets used the side of his foot to center the ball to Messi. The 36-year-old star settled the ball to keep it from defender Peter Stroud, dribbled to his right and threaded a pass between Andrés Reyes and Daniel Edelman to 18-year-old American Benjamin Cremaschi.
As goalkeeper Carlos Coronel moved to cover the near post, Cremaschi beat defender John Tolkin and one-touched the ball back to Messi. He sprinted toward goal and let it bounce off his left foot and in into the unguarded net from 3 yards for his 11th goal in nine games for Miami in all competitions.
The match drew a record crowd of 26,276 to Red Bull Arena in the Red Bulls' first home sellout this season, and resale tickets were listed for over $1,000 in the week leading to the game.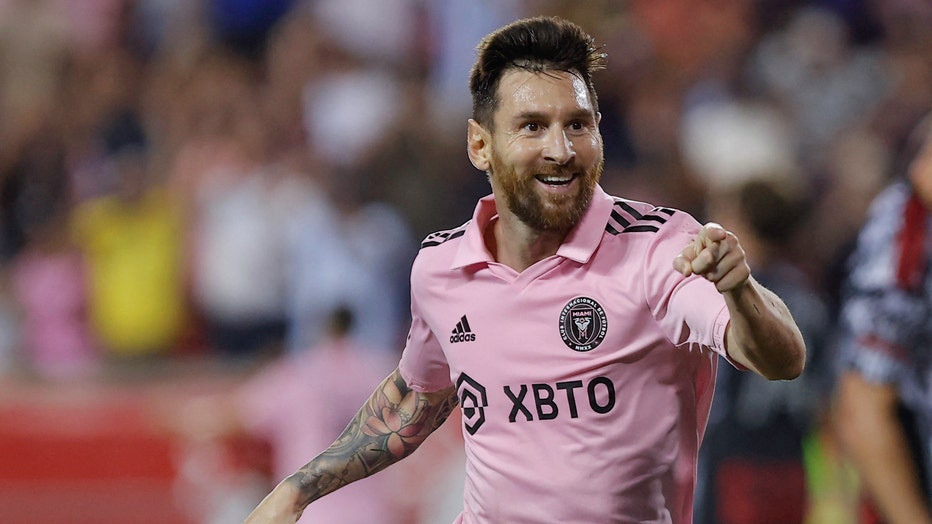 Inter Miami's Argentine forward #10 Lionel Messi reacts after scoring his team's second goal during the Major League Soccer 2023 match between Inter Miami and New York Red Bulls at the Red Bull arena in Harrison, New Jersey, August 26, 2023. (Photo b
Alba was among four starters making his MLS debut and Busquets entered with Messi for his first match.
Messi followed David Beckham, Thierry Henry and Zlatan Ibrahimović to a far-more stable league than Pelé joined, one that hopes to one day challenge the more established American sports in popularity.
Chants of "We Want Messi!" began in the sixth minute and a loud "Mes-si!" "Mes-si!" reverberated throughout in the 35th.
Fan focus was on Messi when he started to warm up three minutes into the second half, and a roar erupted when Martino signaled for him to take off his pinny and head to the center stripe.
Messi played his first Miami game on July 21 in the Leagues Cup and scored 10 goals in seven games in that competition and a U.S. Open Cup semifinal.
Miami (6 wins, 14 losses, 3 draws) had not won a league match since May 13 against New England and had just one road victory, on April 29 at Columbus. New York is 7-10-8.
The streets around outside the stadium were packed 2 1/2 hours before the match, filled with dozens of scalpers and people selling unlicensed Messi jerseys. A simulcast of the game was scheduled on a videoboard in Times Square. About half wore Messi jerseys from Argentina, Barcelona, Paris Saint-Germain and Miami.
Miami scored the first goal when Alba took a free kick after a foul by Reyes and the ball was punched out Coronel. Robert Taylor played the ball wide to Noah Allen, and the 19-year-old defender made a diagonal pass to Gómez, who settled with a touch and put the ball inside the far post with a left foot shot from about 14 yards.