Tampa Bay Buccaneers sign QB Baker Mayfield as possible Tom Brady successor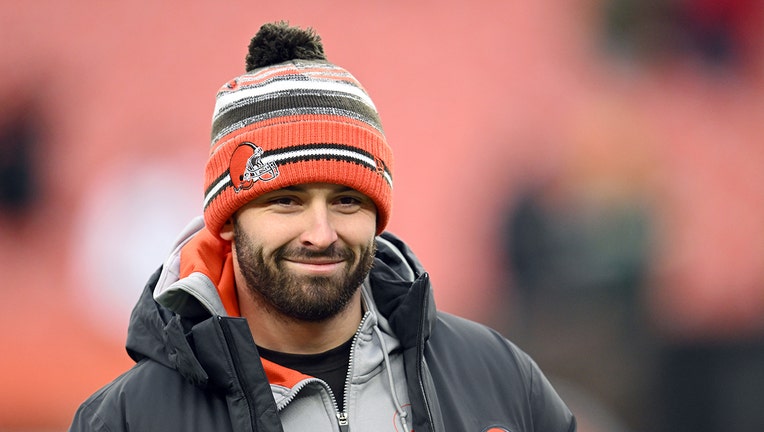 article
TAMPA, Fla. - Tampa Bay-ker? The Bucs may have its next quarterback: former No. 1 overall pick Baker Mayfield.
According to FOX Sports, Tampa Bay reached an agreement with Mayfield for a one-year deal with up to $8.5 million, bringing in a veteran to compete for the job with Kyle Trask during training camp.
Mayfield played for both the Carolina Panthers and Los Angeles Rams last seen, ultimately going 2-8 as a starter.
He spent four years with the Cleveland Browns. Mayfield was the No. 1 overall pick in 2018. The quarterback's time with the Browns included fewer memorable moments than distracting ones as he couldn't end the team's long search for a franchise QB.
MORE: Bucs' new offensive coordinator Dave Canales looks to install system in Tampa Bay
The stint was full of highs and lows, coaching changes, too much drama, and not nearly enough wins. Former Browns general manager John Dorsey was enamored with Mayfield's talent and swayed by his swagger, choosing the Heisman Trophy winner from Oklahoma first despite other options, including Josh Allen and Lamar Jackson.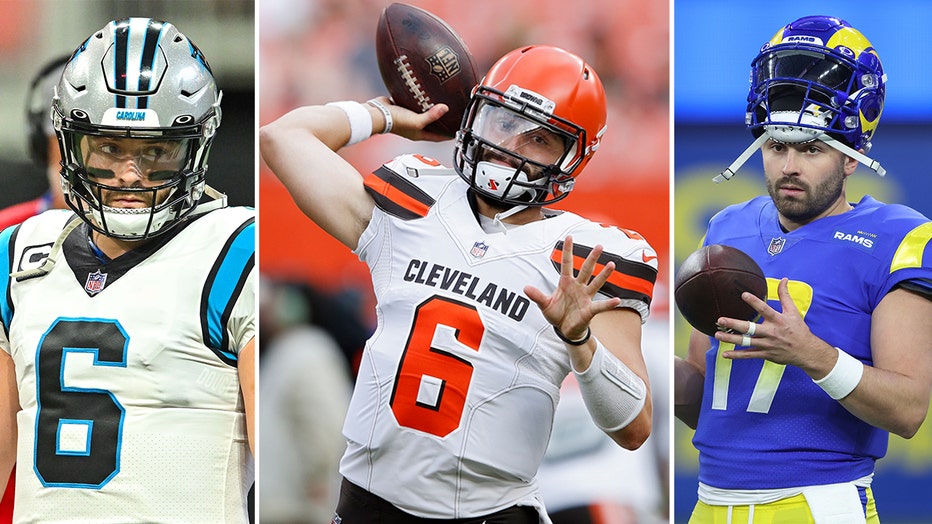 Compilation of Baker Mayfield from Getty Images
Mayfield began his rookie season as Tyrod Taylor's backup before coming off the bench in Week 3 and rallying the Browns to their first win in 635 days, a 21-17 victory over the New York Jets on national TV.
PREVIOUS: Tom Brady announces he is retiring 'for good' after 23 seasons in NFL
Mayfield wound up passing for 3,725 yards and throwing 27 touchdown passes as a rookie, breaking the NFL record for a first-year quarterback. For the first time in years, there was genuine hope for a floundering franchise that has had 32 starting QBs since 1999.
However, Mayfield's second season was a major setback. He threw nearly as many interceptions (21) as touchdowns (22) and seemed to be on a different page of the playbook than star receiver Odell Beckham Jr. Cleveland went 6-10 and fired coach Freddie Kitchens.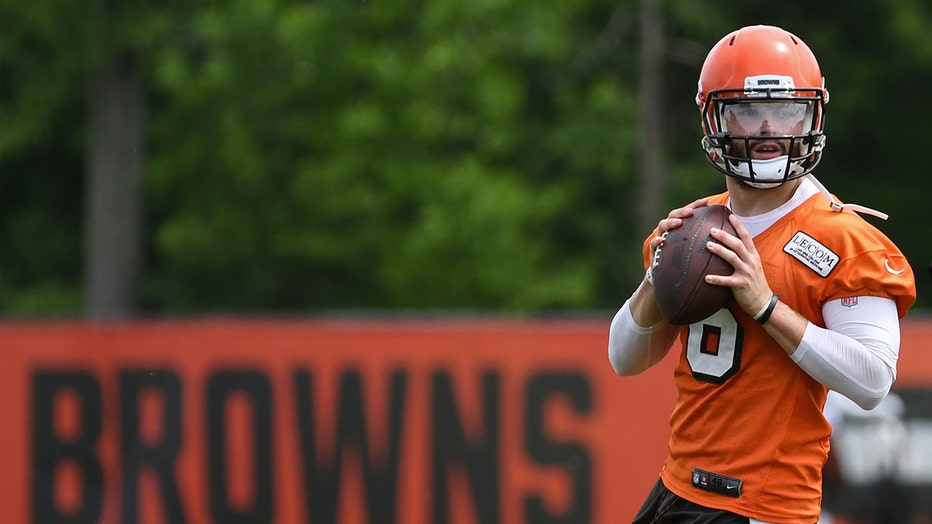 Quarterback Baker Mayfield #6 of the Cleveland Browns drops back to pass during an OTA practice on May 30, 2018 at the Cleveland Browns training facility in Berea, Ohio. (Photo by: 2018 Diamond Images/Getty Images)
Mayfield also regularly squared off with commentators criticizing his play and sparred with local reporters. His immaturity showed particularly on social media, where he often posted rebukes to detractors.
RELATED: Buccaneers fire offensive coordinator Byron Leftwich, five others in coaching staff shakeup
The 2020 season signaled a turnaround as Mayfield led the Browns back to relevance with their first postseason appearance since 2003. He thrived in first-year coach Kevin Stefanski's offense, throwing 20 TD passes and just three interceptions in his last 12 games.
Mayfield directed a playoff win — the Browns' first since 1994 — over the rival Pittsburgh Steelers on Jan. 10, 2021, and came within minutes of getting Cleveland to the AFC Championship a week later before losing at Kansas City.
The resurgence triggered Super Bowl predictions for the Browns in the 2021-22 season and speculation they would sign Mayfield to a long-term contract.
Neither came close to happening.
After dropping the hyped season opener to the Chiefs, the game's outcome decided when Mayfield threw a late interception, he suffered a torn left shoulder labrum the following week while trying to make a tackle.
MORE BUCS NEWS: Bucs losing 30 years combined experience in David, Gholston and Brate
The injury worsened when he was sacked by Arizona's J.J. Watt a few weeks later, and Mayfield never found his rhythm for the rest of the season. Beckham forced his way off the roster and the Browns stumbled to an 8-9 finish and missed the playoffs.
Mayfield also raised eyebrows by publicly questioning Stefanski's play-calling.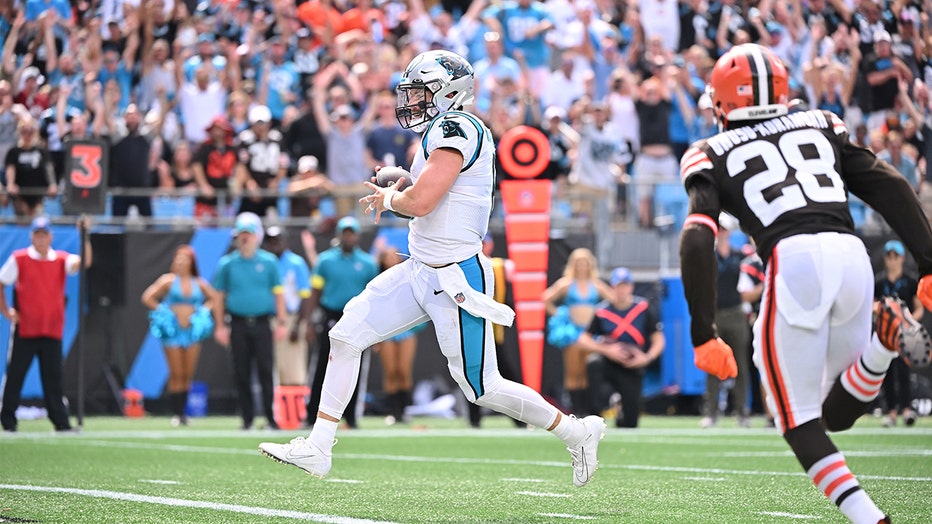 Baker Mayfield #6 of the Carolina Panthers runs for a touchdown against the Cleveland Browns during their game at Bank of America Stadium on September 11, 2022 in Charlotte, North Carolina. Cleveland won 26-24. (Photo by Grant Halverson/Getty Images)
Mayfield sat out the finale and had surgery soon after. Browns general manager Andrew Berry said he expected Mayfield to bounce back as the team's starter in 2022, but everything changed with the pursuit of Deshaun Watson.
MORE: Deshaun Watson accusers attend Browns game in Houston, attorney says
He was traded to Carolina in July 2022. The Browns continued paying $10.5 million of Mayfield's $18.8 million contract for the following season, according to the Associated Press. 
The Panthers paid $4.8 million and Mayfield will take a $3.5 million pay cut. Both coincidentally met for the season opener in Charlotte. The Browns ended up winning their first opener since 2004, 26-24.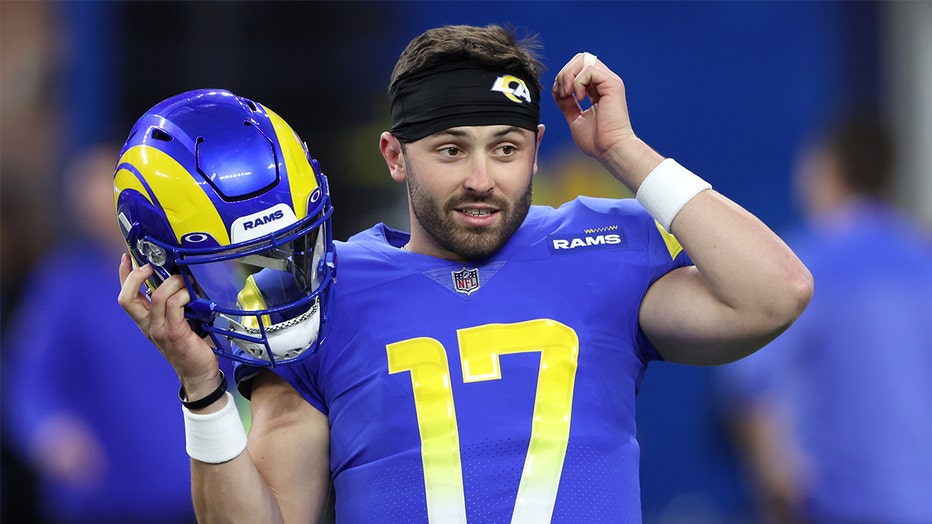 SEATTLE, WASHINGTON - JANUARY 08: Baker Mayfield #17 of the Los Angeles Rams is sacked by Uchenna Nwosu #10 and Bruce Irvin #51 of the Seattle Seahawks during the third quarter at Lumen Field on January 08, 2023 in Seattle, Washington. (Photo by Step
In December 2022, the Panthers waived the struggling quarterback. He was 1-5 as Carolina's starting quarterback completed just 57.8% of his passes, having six touchdowns and six interceptions. He also struggled with tipped passes at the line of scrimmage.
READ: Tampa Bay Bucs' Blaine Gabbert helps rescue passengers after helicopter crash near Davis Islands
Within a day, the Rams claimed Mayfield. He entered free agency this week with many sports reporters saying the Buccaneers have expressed interest in bringing him to Tampa Bay. 
And those rumors were true.
The Associated Press contributed to this report