With World Cup conflict looming, Wimbledon loosens mobile phone restrictions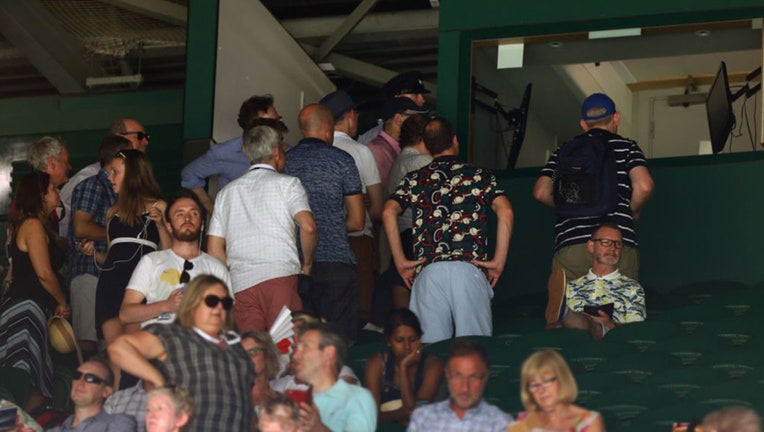 article
Facing continuing conflicts with England's run through the 2018 FIFA World Cup, Wimbledon has decided to relax its rules about mobile phones.
Spectators at the event will now be able to watch England take on Croatia in the semi-finals Wednesday, a game that takes place during evening matches at Wimbledon. If the team wins, it will play in the World Cup final on Sunday, which starts while Wimbledon's men's final is taking place. The club has declined to reschedule that match.
Previously the All England Club, where the event takes place, had required that electronic devices be turned off inside of the stadium.
"Our attitude is that if people aren't affecting other people's enjoyment of the tennis, if they have it on silent or are listening on an earphone, then that is fine," Richard Lewis, the club's chief executive, told The Guardian.
The decision to loosen the rules comes after a Saturday match that coincided with England's win over Sweden in Russia did not draw well. Some spectators were even defying the club's rules during the match, opting instead to watch soccer. Lewis told the paper that it didn't end up being an issue, and that the club did not have any complaints about phone usage.
"We had superb tennis going on and we were benefiting from modern technology where people were able to follow the football and enjoy it, without disturbing other people," he told the paper. "And I thought that went really well."
Still, spectators will have to utilize their own resources to watch the match, as the club also declined to show the game on the big screen just outside of one of the stadiums. It hasn't shown a soccer match on the screen in more than two decades.
Lewis says that spectators must be conscientious of their surroundings. They could be asked to leave if they are talking on the phone or playing the match at an excessive volume.
He is not the only one who is not concerned. Eight-time champion Rodger Federer thinks that it's World Cup officials who should be worried.
"I'm more concerned the World Cup final will have issues because the Wimbledon final is going on," he told The Guardian.