AP: Ducey, Garcia to face off in November gubernatorial election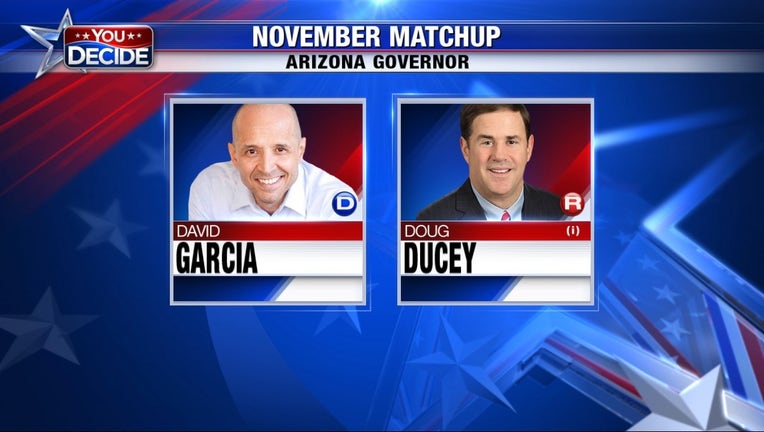 article
PHOENIX (AP/KSAZ) -- Doug Ducey and David Garcia will face off in a November race, according to Associated Press projections.
Ducey, who was first elected as Governor in 2014, will be running for a second term. He bested former Secretary of State Ken Bennett, a more conservative GOP candidate who had little funding and campaign resources, in Tuesday's primary
Ducey's re-election bid has focused on border security and job creation. He's touted the new law enforcement collaboration effort called the Border Strike Force as well as multiple companies who've located in Arizona during his first term.
Meanwhile, Education professor and military veteran David Garcia beat state Sen. Steve Farley and Kelly Fryer, former CEO of the YWCA Southern Arizona in Tuesday's Democratic primary.
Garcia emphasizes increasing funds for public schools and establishing more sustainable energy sources. He's a professor at the education school at Arizona State University and a fourth-generation Arizona resident.
Garcia has also pointed out the historical relevance of his candidacy: a Latino hasn't won statewide office in Arizona since Gov. Raul Castro was elected in 1974.