Arizona Game and Fish investigates poaching case involving headless pronghorn antelope
PAULDEN, Ariz. - The Arizona Game and Fish Department is searching for poachers after the headless body of a pronghorn antelope was found near Chino Valley.
The discovery was made along Big Chino Road, northwest of Paulden. The area was closed for pronghorn hunting at the time, officials said.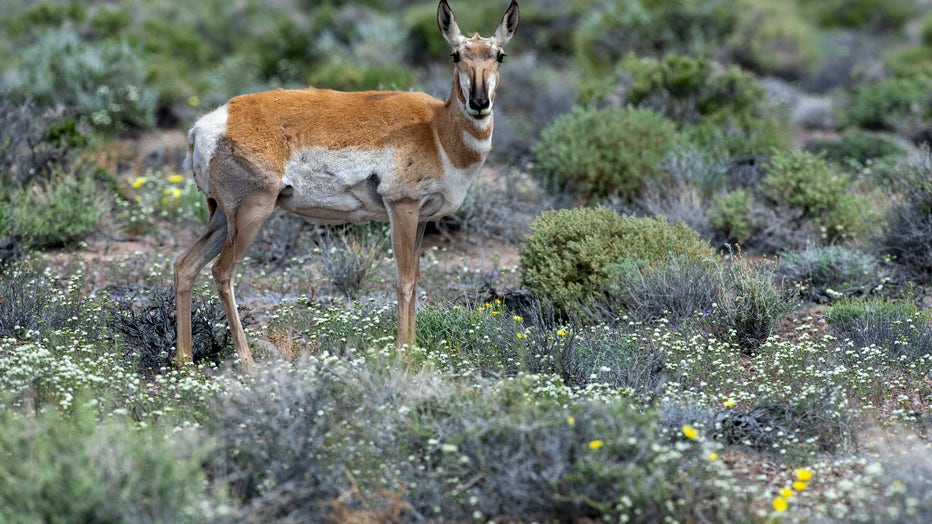 BEATTY, NV - MAY 06: A pronghorn antelope pauses while eating wildflowers along a highway where cattle once grazed near the Mojave Desert town of Beatty, NV. on Wednesday, May 6, 2020. (Brian van der Brug / Los Angeles Times via Getty Images)
"Poachers are not hunters. They are criminals who steal from wildlife and Arizonans; this is the act of a poacher, not a lawful hunter", says Darren Tucker, wildlife manager with AZGFD.
Officials say the killing happened sometime between Aug. 21-24.
Anyone with information about the case is asked to contact the department's Operation Game Thief hotline at 1-800-352-0700. A $1,500 reward is being offered for information leading to an arrest.