Auction for gun that killed Trayvon Martin possibly hijacked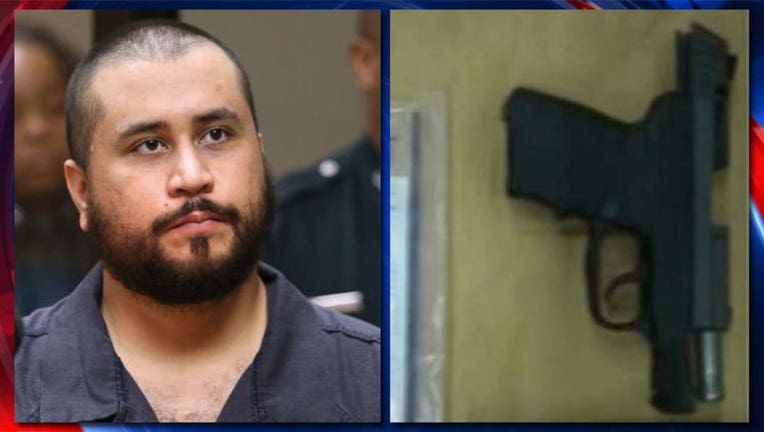 article
MIAMI (AP) -- Bidding in an online auction for the pistol former neighborhood watch volunteer George Zimmerman used to kill Trayvon Martin appeared to have been hijacked by fake accounts posting astronomically high bids.
At one point early Friday, the bidding surpassed $65 million with the leading bidder using the screen name "Racist McShootFace." The site later showed that account had been deleted.
Other screen names of bidders on the site included "Donald Trump," ''shaniqua bonifa" and "Tamir Rice," the name of a black 12-year-old who was shot and killed by Cleveland police in 2014 while playing with a pellet gun.
The website for United Gun Group began hosting the auction Thursday after another website, GunBroker.com, took down the auction saying it wanted "no part in the listing on our website or in any of the publicity it is receiving."
Hours later, United Gun Group tweeted that it would post Zimmerman's ad. The new link was posted, along with a statement from Zimmerman. The site calls itself a "social market place for the firearms community."
Bidding on the 9 mm Kel-Tec PF-9 pistol began at $5,000.
Critics called the auction an insensitive move to profit from the slaying.
Zimmerman had told Orlando, Florida, TV station WOFL that the pistol was returned to him by the U.S. Justice Department, which took it after he was acquitted in Martin's 2012 shooting death.
Zimmerman's listing said a portion of the proceeds would go toward fighting what Zimmerman calls violence by the Black Lives Matter movement against law enforcement officers, combatting anti-gun rhetoric of Democratic presidential candidate Hillary Clinton and ending the career of state attorney Angela Corey, who led Zimmerman's prosecution.
The listing ended with a Latin phrase that translates as "if you want peace, prepare for war."
Zimmerman, now 32, has said he was defending himself when he killed Martin, an unarmed black 17-year-old, in a gated community near Orlando. Martin, who lived in Miami with his mother, was visiting his father at the time.
Zimmerman, who identifies as Hispanic, was acquitted in Martin's February 2012 shooting death. The case sparked protests and a national debate about race relations. The Justice Department later decided not to prosecute Zimmerman on civil rights charges.
Lucy McBath, the mother of another black teenager shot by a white man during an argument at a Jacksonville convenience store in 2012, said the auction reflected a "deplorable lack of value for human life."
"I am deeply disappointed that the man who killed Trayvon Martin is trying to sell the very gun he used to cut that precious life short to raise money," McBath said in a written statement.
The slaying of her son, 17-year-old Jordan Davis, by Michael Dunn drew parallels at the time to the Zimmerman-Martin case. Dunn told police he had felt threatened by Davis. Unlike Zimmerman, Dunn was convicted of murder.
Since Zimmerman was acquitted, he has been charged with assault based on complaints from two girlfriends. Both women later refused to press charges and Zimmerman wasn't prosecuted. His estranged wife, Shellie Zimmerman, also accused him of smashing her iPad during an argument days after she filed divorce papers. No charges were filed because of lack of evidence. They were divorced in January.
Orlando-based attorney Mark O'Mara has previously represented Zimmerman. A receptionist in O'Mara's office said Thursday that he no longer represents Zimmerman and had no comment.
Martin's parents declined to address Zimmerman's actions in statements made through representatives.
Martin's mother, Sybrina Fulton, said through an attorney that she would rather focus on her work with the Trayvon Martin Foundation than respond to "Zimmerman's actions."
Daryl Parks, whose firm represented the Martin family during the trial, is now chairman of Fulton's foundation. He says Fulton is pushing for policies that protect youth and address gun violence.
Fulton also founded the Circle of Mothers conference, a three-day event to help mothers who have "lost children or family members" to gun violence. Democratic presidential candidate Hillary Clinton will be keynote speaker at the event in Fort Lauderdale starting May 20.
___
Associated Press writers Curt Anderson in Miami; Jason Dearen in Gainesville, Florida; Tamara Lush in St. Petersburg and Terry Spencer in Fort Lauderdale contributed to this report.

Copyright 2016 The Associated Press. All rights reserved. This material may not be published, broadcast, rewritten or redistributed.