Baby Gabby Hart abandoned at Hobby airport in 1989, reconnects with officer who found her 34 years later
HOUSTON - May is National Foster Care Month, and in an effort to raise awareness, FOX 26's Gabby Hart is sharing a piece of her own story. 
She's opening up about her journey through the foster care system, and how it all started at Hobby airport in 1989. 
"I was walking around the garage, and I heard a baby crying; so, I followed it, and I found the baby laying in the back of the pick-up truck, and I thought, what is this going?" said former HPD officer Kathleen Biryla. 
SUGGESTED: 2 killed, 7 injured in Conroe structure collapse, cause unknown
On May 27, 1989, Biryla found a newborn baby abandoned in the parking garage of Hobby airport. 
She's pictured in a newspaper article holding that infant.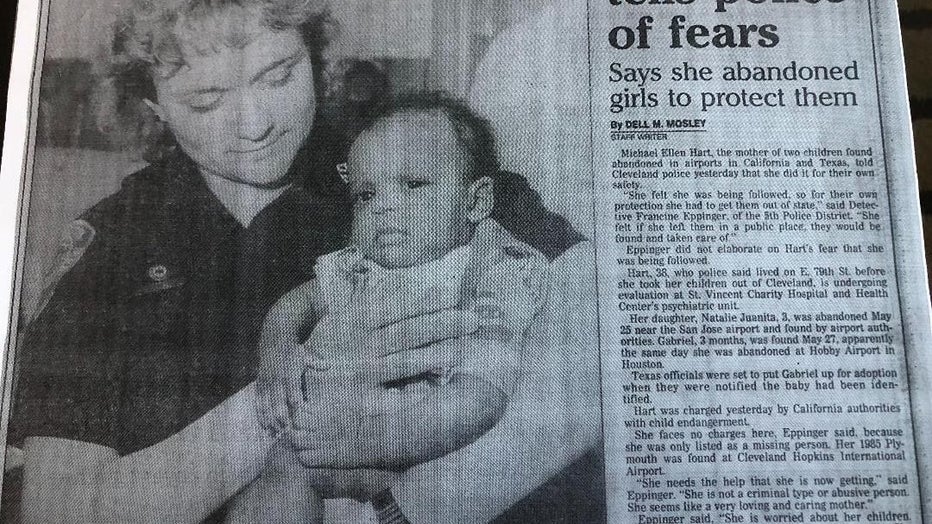 "She wouldn't go to anybody but me, so they let me take her downtown," Biryla reflected. 
When FOX 26's Gabby Hart tracked Officer Biryla down, she told her she worked for FOX 26 Houston and that she wanted to speak with her about the infant she found that day; that's all Biryla knew before they met on Zoom. 
"I always wondered what happened to her though, you know?" Biryla said. 
The baby was identified shortly after being found as 3-month-old Gabriel Hart, who many of you​ might know as Gabby Hart, the FOX 26 News Reporter. Gabby revealed to Biryla that she was the baby she found 34 years ago over Zoom. 
And just a few weeks later, Biryla traveled from Buffalo, New York to Houston, to meet her. 
"I'm so happy that I got to have an ending to the story, you know, and you turned out wonderfully. I remember thinking back then how sad I was to leave you down at that juvenile place as a police officer, and you cried when I left, and I cried that night because I didn't want to leave you there," Biryla said. 
Two days before Gabby's mother left her at Hobby airport, she flew to San Jose, California, where she abandoned Gabby's older sister Natalie Hart, just 3-years-old in an airport bathroom. 
"I remember having a feeling that it was going to happen. I remember looking under the stall and saying Mommy don't leave me, and then when I came out, she was gone," Natalie recalled. 
SUGGESTED: Is your car spying on you? Website offers information cars are sharing, what you can do about it
The story made national headlines and the news soon reported that their mother suffered from mental illness and felt she was protecting them by leaving them. 
Gabby & Natalie returned to Cleveland, Ohio, and briefly lived with their biological family, but taking care of them with the pressure of their mother led to the family becoming overwhelmed. Gabby entered the foster care system at 3-years-old, Natalie was 7. 
"It was kind of like, just be normal, pretend nothing is wrong, just keep living your life, and you can't do that, as an adult I don't think I would be able to do that," Natalie said. 
Gabby and Natalie reflected on their experience over Zoom, Gabby noted that while their mother had her issues, they were never mistreated by her or their biological family, but that the mistreatment only happened after they entered foster care and at the hands of foster parents. After experiencing abuse in their first few foster homes, Natalie and Gabby were separated at 5 and 9-years-old. 
Dejuana Jernigan, President of Arms Wide Adoption and Foster Agency in Houston, weighed in, "That sibling who may have been their only connection to who they are is gone," she said. 
DOWNLOAD THE FOX 26 HOUSTON APP BY CLICKING HERE
Jernigan says when children experience these traumas so young it can make it hard for them to stay in the foster homes they're placed in after, which leads to them constantly moving.
"That child is not intentionally blowing up a placement, that child is protecting themselves," Jernigan said. 
Gabby Hart went on to travel through a total of 24 foster and group homes, and when she turned 18, she was out on her own.
When you look at the statistics for previous foster children, especially those who age out, it's alarming. Less than 3% will graduate from college, they're more likely than their peers to end up homeless, in jail, on drugs, or dead.
"On paper, it looked like we should be complete statistics, and we're not," Natalie said. 
Natalie and Gabby say it's thanks to the caring foster parents they met along the way, the social workers who went the extra mile, and the teachers who provided a safe space and refused to give up that they triumphed after foster care. 
During a Zoom interview, Gabby asked her sister if the few good foster parents canceled all of the bad ones, "Yes. it made me, it made me realize people aren't all the same," Natalie replied.  
And there are so many children and teens in foster care for reasons beyond their control who are in need of good foster parents.  
"Having that family or at least that one consistent adult in their lives can help disrupt this whole cycle of children who age out and face these dire consequences," Jernigan said. 
A Message from Gabby Hart: 
"I share my story with you not to garner sympathy or pity, but to inspire. To inspire all of those amazing foster children by letting them know there is light at the end of the tunnel. And to the existing foster parents and those considering becoming one, you matter. Your time, your energy, and your love matter more than you know." 
For information on how you can become a foster parent or how you can just get involved see the resources below:
Become a Foster Parent ⋆ Arms Wide