Chandler man arrested for hit-and-run that injured mother and child
CHANDLER, Ariz. - Chandler Police say a driver has been arrested after a mother and child were hospitalized in a hit-and-run on Oct. 21.
Officials say a car lost control near California and Oakland streets just before 2:30 p.m. Thursday afternoon and hit a mother pushing her child in a stroller on a nearby sidewalk. It then slammed into a wall and a tree before fleeing westbound down Tulsa Street.
It was described as a two-door, light-colored Ford Mustang with possible front end damage.
On Oct. 26, the owner of the car had called police, saying that his son, 18-year-old Luis Romo-Valadez, had returned from Mexico with new damage to the vehicle.
"The father…stated his son fled because he was scared," court documents said.
The 18-year-old was taken into custody on Tuesday and admitted to police that he left because he was scared.
Romo-Valadez faces a hit-and-run charge.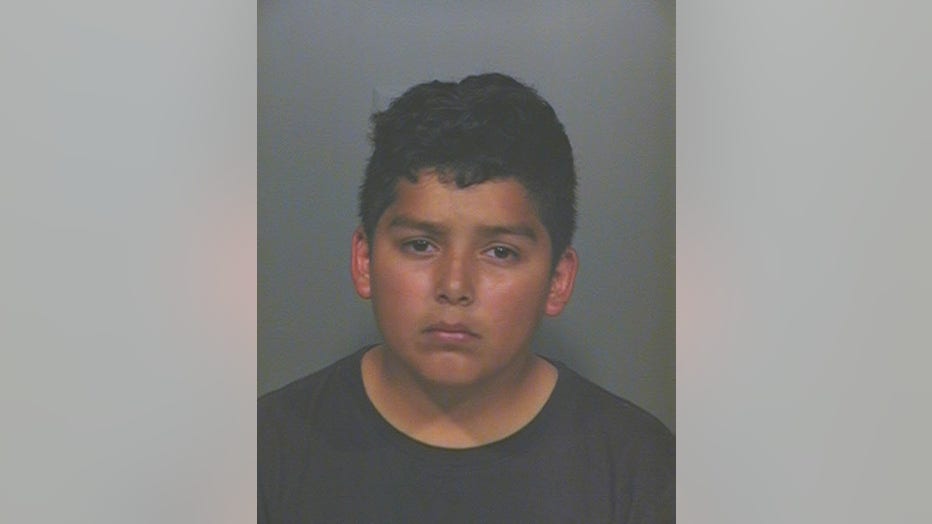 Luis Romo-Valadez  (Chandler Police Department)
Injured mother speaks out
Sabrina Ramos, the mother, is concerned that she was targeted. One can see the tire marks led right up to the sidewalk and then angled directly to where she was standing with her 2-year-old son on the other sidewalk.
As the car hopped the curb, Sabrina says she got between the car and her son.
"Just had to do … what most mothers would do," Ramos said.
While she was laying in the rubble of a concrete wall with a sprained ankle and her toddler screaming, the driver reversed and sped away.
"He was just laughing, and the grin on his face - seemed like no sympathy on his face," she said.
She noted that the driver had curly or wavy hair with glasses before grabbing her son to protect him.
"My hands were shaking and I got him out as fast as possible," Ramos said. "Took my son out of the stroller, held him really close."
The two went to the hospital, and the son sustained bruises all over his body while Ramos suffered an ankle sprain.
More Arizona headlines
Tune in to FOX 10 Phoenix for the latest news:
Get breaking news alerts in the FREE FOX 10 News app. Download for Apple iOS or Android.