Deadly tornado outbreak causes catastrophic destruction in multiple states
Friday night was a terrifying night for families up and down America's heartland as the most active severe weather outbreak this year so far left at least 21 dead and dozens injured. Residents across several states are now cleaning up the damage left by dozens of tornadoes.
The ferocious storms left widespread damage, triggering more than 850 storm reports in at least seven states. At one point in the evening, the FOX Forecast Center said there were over 20 Tornado Warnings active at once as rare "Particularly Dangerous Tornado Watches" stretched 900 miles from Wisconsin to Texas.
As of Saturday morning, more than 400,000 customers were without power across a dozen states thanks to the severe storms and an ongoing snowstorm in the Northern Plains. 
DEADLY TORNADO OUTBREAK MARCHES EASTWARD SATURDAY AFTER ROCKING HEARTLAND
Tornado damage in Wynne, Arkansas. March 31, 2023. (FOX Weather)
Homes, businesses ripped apart by tornado in Little Rock, Arkansas
Scenes of destruction could be seen in Little Rock, Arkansas Friday, where the city's mayor said that a tornado had left at least one person dead and injured at least 30 others.
AT LEAST 1 DEATH REPORTED IN LITTLE ROCK AREA AFTER TORNADO CAUSES CATASTROPHIC DAMAGE
Shortly before 2:30 p.m. CDT, a Tornado Emergency was issued for communities around Little Rock. As the twister tore through the city, the National Weather Service offices in Little Rock had to transfer duties to the Memphis office while the meteorologists took shelter. 
"There's well-built homes that are damaged," storm chaser Brian Emfinger told FOX Weather. "There's also numerous shopping centers that have been damaged and have roof damage."

In the wake of the destruction, emergency crews went into search and rescue mode and residents were told to stay away from the area damaged by the tornado.
LISTEN AS TORNADO ROARS THROUGH LITTLE ROCK
'I thought I was a goner for sure'
Storm chasers told FOX Weather they were helping pull people from debris in Wynne, Arkansas, following a deadly tornado there. Survivors told stories of fearing for their lives.
"As I got in, huddled up against the cement barrier, every single glass window blew out, and people were blown back," said Kenneth Bruton, who was out shopping in Little Rock when he had to run for shelter in a store. "And I held on. It must've been a minute, just huddled. I thought I was a goner for sure."
Officials have now confirmed at least four deaths in the town.
Photos from the community with a population of more than 8,000 showed trees down on top of homes and damage to the community's high school.
"I'm in shock right now, but I'm praying everybody's okay," one resident told FOX Weather's Will Nunley after she came home to find her home destroyed by the twister.
Storm victims described the sound of the tornado as similar to a washing machine, and it was only around for a brief time. Residents told Nunley they had plenty of advance warning, with sirens sounding more than half an hour before the tornado arrived.
Arkansas Gov. Sarah Huckabee Sanders signed a state of emergency for the state for the storms and has deployed around 100 Arkansas National Guard members to assist with recovery efforts in some of the hardest-hit areas. There's also a shelter set up at a local school for victims who've lost their homes. 
1 dead, multiple injured in theater roof collapse near Chicago
One person is dead, and 28 people are injured after the roof collapsed during a concert near Chicago.
It was a chaotic scene inside The Apollo Theatre AC in Belvidere, Illinois, as a powerful storm ripped through the area. The bands Revocation, Skeletal Remains and Morbid Angel were set to perform at the venue. The roof reportedly collapsed during the middle of the concert, trapping people under the rubble.
1 DEAD AFTER ROOF OF ILLINOIS THEATER COLLAPSES DURING CONCERT AS STORM RIPS THROUGH BELVIDERE
A Tornado Warning had been issued for the storm that appears to have caused the collapse. However, there was no confirmation of a tornado from the National Weather Service. That may come later if officials decide to survey the damage.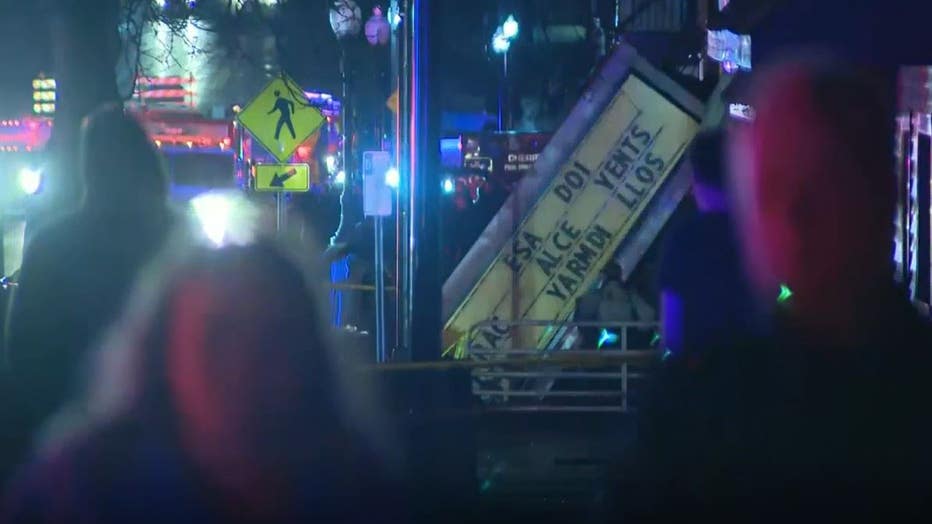 Belvidere, Illinois roof collapse (WBBM)
Illinois Gov. J.B. Pritzker stated in a tweet Friday night that his administration is closely monitoring the collapse. 
3 dead in Indiana tornado
An Indiana sheriff said it is abundantly clear that a destructive tornado hit a community leaving three people dead.
"It is far too early to know the extent of the devastation, however we can tell you that there is a line of damage covering several miles, starting west of Sullivan in the rural New Lebanon area, extending eastward through Sullivan," Sullivan County Sheriff Jason Bobbitt said.
In the city of Sullivan, Bobbitt said homes in both the city and county are severely damaged and some are completely leveled.
"Our worst fears became a reality earlier when we learned that members of our community have lost their lives. No further information is being released on victims at this time," he said.
Bobbitt said emergency responders and utility workers are still searching for residents and making the scene safe as of Saturday morning.
A state of emergency has been declared for the affected areas. Sullivan City Hall and area churches have been opened up as safe shelters.
Tornado strikes just 100 miles from last week's deadly Mississippi tornado
Tornadoes also swept through Iowa, Tennessee and Mississippi.
NWS meteorologists believe a tornado that impacted communities around Ottumwa, Iowa, was an EF-2 or EF-3 based on radar signatures.
The same cell likely produced a large tornado in Martinsburg, Iowa, where a storm chaser captured a photo of a twister moving through the rural community. 
Several barns were damaged in the eastern part of the state, but there were no reports of injuries associated with the severe weather in the Hawkeye State.
Photos from Tunica County, Mississippi, showed extensive damage to mobile homes from a likely tornado, but a storm chaser was not aware of any injuries. 
The impacted region was more than 100 miles to north and west from where storms left a trail of devastation just a week ago.
Severe weather threat in Northeast Saturday could bring tornadoes
A few severe storms with damaging wind gusts threaten about 50 million people Saturday afternoon across parts of the Northeast. This includes New York City and Philadelphia. 
The morning will start off with widespread rain. However, a break in the rain will arrive during the later morning and the sun will even break out by the afternoon. This will send temperatures into the 60s and 70s and ample atmospheric energy will build ahead of a new line of storm developing across Pennsylvania. 
SEVERE WEATHER THREAT IN NORTHEAST SATURDAY COULD BRING TORNADOES, 60 MPH WINDS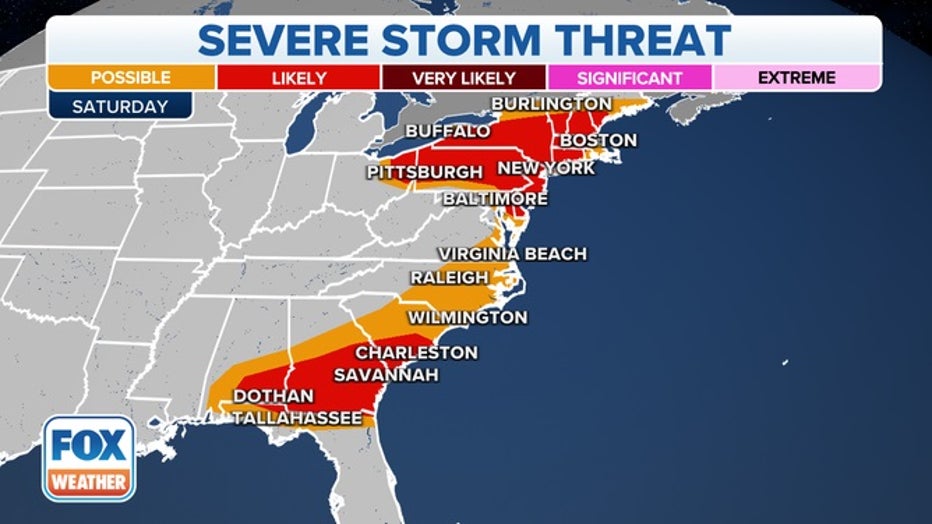 Outside the severe storms, millions of people will be in for a windy Saturday as the strong area of low pressure causes 40-plus mph gusts from the Plains to the East Coast. (FOX Weather)
This line will gradually strengthen through the afternoon and arrive toward the I-95 corridor after 6 p.m. The storms will have the potential to produce hail, damaging winds and even a tornado or two. The tornado threat will be maximized roughly from New York City down toward Delaware.
In addition, a few severe storms are likely in parts of the Southeast, including Charleston and Savannah. These storms will be capable of hail in addition to wind gusts in excess of 60 mph.
LINK: Get updates and more severe weather coverage at foxweather.com.