Defeated Arpaio has no regrets about immigration crackdowns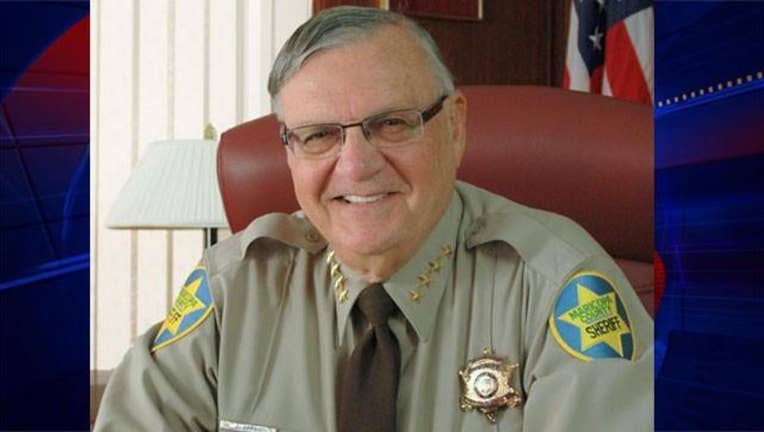 article
PHOENIX (AP) -- The outgoing sheriff of metro Phoenix says he was saddened by his defeat after 24 years in office, but expressed no regrets about launching dozens of immigration crackdowns that made him a national political figure but ultimately led to his downfall.
Sheriff Joe Arpaio said Friday he has been humbled by calls from supporters who bemoaned his loss Tuesday to Paul Penzone, a little-known retired Phoenix police sergeant.
"I am not going to say I let them down," Arpaio told The Associated Press. "It's just sad to see me go."
The 84-year-old will end his tenure as Phoenix's top law enforcer with a racial profiling verdict that discredited his immigration patrols and a criminal contempt-of-court charge against him for prolonging the patrols 17 months after a judge ordered them stopped.
Arpaio remains unapologetic in his decision 10 years ago to take on illegal immigration, despite the $48 million in taxpayer-funded legal costs from the profiling case and the misdemeanor charge that could expose him to up to six months in jail if he's convicted.
Other police bosses were happy to leave the onerous duties of immigration enforcement to the federal government. But Arpaio said he had a duty to enforce laws passed by the Arizona Legislature, including one that barred immigrant smuggling.
"I am not going to say I am sorry. We did our job," the sheriff said, adding that he is the "trophy for Hispanic groups coming after me."
In the end, courts stripped away Arpaio's immigration powers two years ago, and his role in the immigration debate since has consisted of speaking out publicly against federal border policies.
Lydia Guzman, a Latino civil rights advocate and longtime Arpaio critic, said the sheriff's claim that he has no regrets about targeting immigrants doesn't ring true.
"He is trying to play the martyr," Guzman said. "I think that deep down inside, at some point, he probably realizes his immigration enforcement was his demise. That's what got him in trouble."
Arpaio has acknowledged disobeying the judge's order in the racial profiling case, but insisted the violation was unintentional. His trial is scheduled for Dec. 6.
He has faced other challenges in his bid for a seventh term.
The sheriff, who raised $12 million in campaign cash mostly from people living in other states, said he didn't expect liberal hedge-fund tycoon George Soros to give $2.3 million to a group that ran a TV commercial questioning Arpaio's reputation for being tough on criminals.
Arpaio also blamed the U.S. Justice Department for announcing a day before early voting began in Arizona that it planned to prosecute him in a criminal contempt case.
The sheriff said he believes he will be remembered for his tough jail policies, such as dressing inmates in pink underwear and jailing them in Tent City, a complex of canvas tents where prisoners are housed during Phoenix's triple-digit summer heat. Still, he realizes his successor could eliminate those fixtures.
Penzone has said he is open to the idea of closing Tent City and that he regards the pink underwear as a publicity stunt.
"If someone else wants a change, it doesn't bother me at all," Arpaio said.
He said he could have retired without seeking re-election, but he wanted to remain on the job -- and he doesn't regret seeking re-election.
"I wanted to keep going for the next four years," Arpaio said. "It wasn't in the cards."