Mesa police fatally shoot man during traffic stop in Tempe
TEMPE, Ariz. - The Mesa Police Department is investigating an officer-involved shooting that left one man dead on Sept. 25 near University Drive and Evergreen in Tempe.
Police say the incident began when they found the man "slumped over" in a car in a Panda Express parking lot in Mesa.
Officers said the vehicle had been reported stolen, and when they started giving commands to the man, he drove away.
Mesa Police eventually found the suspect in the car at a covered parking spot near University and Evergreen. 
The suspect, identified as 21-year-old Angel Benitez, was shot after Mesa police initiated another traffic stop. He later died at the hospital.
Multiple witnesses saw the shooting and are now struggling with having watched the deadly events unfold. Some have told FOX 10 that it appeared the suspect in this case had his hands up during the shooting.
"As they were approaching him, I didn't hear anything until I heard 7 or 8 shots, right into the man. I saw his hands above the shields, and then he went down," said a woman named Dani.
Another witness snapped a photo as he was sitting in a truck nearby with two other people.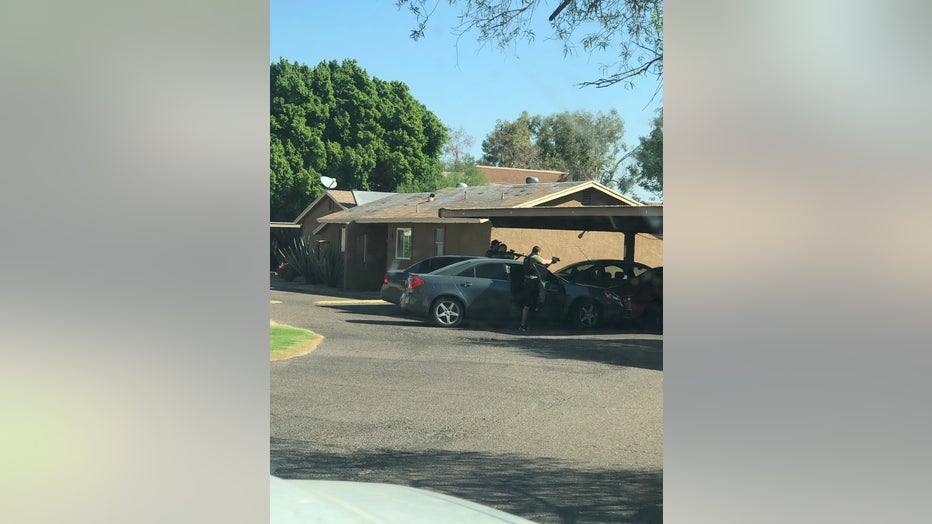 A witness says this photo was taken moments before Mesa police shot the man at University and Evergreen in Tempe. (Peter Morales)
"It sounded like 8 shots. Boom, boom, boom. But my son was in the backseat and said 'Dad, the guy had his hands up,'" said Peter Morales.
SkyFOX video shows a shot-out windshield with several bullet casings on the ground.
Meanwhile, witnesses are still grappling with the intensity of what they happened to see.
"I saw those man's hands above those shields. I'm stunned," said Dani.
Mesa police released a video statement and confirmed that officers tracked a stolen vehicle to an apartment complex via helicopter.
However, the statement gave no details as to what exactly led police to open fire.
Police say a majority of the officers involved in the shooting were not wearing body cameras, however, three uniformed officers at the scene were wearing cameras.
A review of footage from those cameras did not show the shooting itself, however, audio of the officers giving the suspect verbal commands leading up to gunshots can be heard in the footage, police said.
Police also said cellphone video from a neighbor was obtained, but there was no video of the shooting, only audio.
Tempe Police is investigating the incident.
Get breaking news alerts in the FOX 10 News app. It is FREE! Download for Apple iOS or Android.