Olmost The Weekend: Enjoy the laughter at "Spamilton" while it's still in town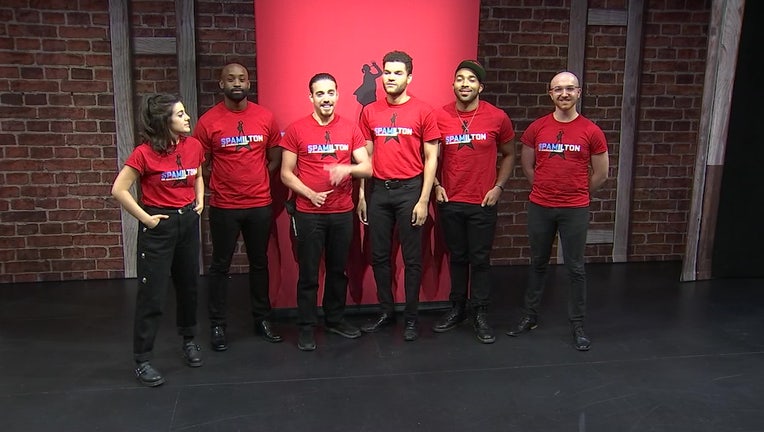 PHOENIX - People have little more than a week left to see one of the funniest Off-Broadway shows.
In fact, one can say this production of "Spamilton", a musical spoof of the Broadway hit "Hamilton", is way off-Broadway, as it's being produced at the Phoenix Theater until August 11. The production features a cast of true characters.
"I'm playing Aaron Burr on Spamilton," said David Spurier.
"I play Lin Manuel Miranda," said Adrian Lopez.
"I play Daveed Diggs and others in Spamilton," said Dominic Pecikonis.
"I'm the only girl in the show so I play all the women of Spamilton as well as all our celebrity guests," said Paloma d'Auria.
There are a lot more characters, and each of the actors play multiple roles. It's also not just Hamilton these actors are spoofing. There are 50 characters in all, performed by just a handful of actors during an 80-minute show. There are also a lot of quick changes backstage.
"So I come off-stage, throw all my costume off and rip this one off with velcro because it's quick-changing," said d'Auria. "This guy has some clips in it. My hair is in a bun. Quickly put it on, grab the umbrella and 30 second later, I run out on stage."
"With the characters come costumes," said Pecikonis. "I have about eight costume changes in the show. It can be anything from Willie Wonka, and all of our clothes are designed to make our changes really quick."
The music is provided by a single piano player.
"It's kind of untraditional in that most musicals have some kind of band, you know, even if its just piano, bass and drums," said Music Director Curtis Reynolds. "For Spamilton. it's just one piano emulating the entire Hamilton score."
It is the jokes that have Spamilton audiences laughing in the aisles.
"I think they've loved it," said Lopez. "We got great reviews on the show, and the audience has had a good response."
As for whether people need to see "Hamilton" to enjoy "Spamilton", one Huffington Post reviewer wrote that people "don't have to see Hamilton to have a side-splitting fun at Spamilton."
Spamilton at the Phoenix Theatre
https://www.phoenixtheatre.com/the-season/spamilton