Police body camera video released in fatal shooting of man in Tempe
TEMPE, Ariz. - Tempe police have released body camera video from an officer-involved shooting that left 21-year-old Angel Benitiez dead.
The video released on Oct. 1 shows officers stopping a suspected stolen vehicle on Sept. 25 outside of a Panda Express restaurant in Mesa.
Only three officers involved in this shooting were wearing body cameras. Five officers fired more than two dozen rounds, but the footage does not clearly show whether Benitez had his hands up when he was shot, as witnesses reported.
Mesa police officers first encountered Benitez slumped over, asleep in the driver's seat of a car that had been reported stolen. As officers yelled commands, Benitez drove off from the scene.
Police then tracked down the vehicle to an apartment complex in Tempe located near University Drive and Evergreen Road.
Mesa street crimes officers, not equipped with body cameras, boxed in Benitez and confronted him.
"Driver, with your left hand, reach and open up the door."
Only three officers on scene had body cameras; none of them had a clear view of the shooting. The officers who fired their weapons were not wearing cameras.
"Driver. Don't reach."
Gunshots are heard.
A witness who says she saw the shooting told FOX 10 Benitez looked like he was trying to surrender.
"This man had both hands up and he succumbed to all of this," said Dani.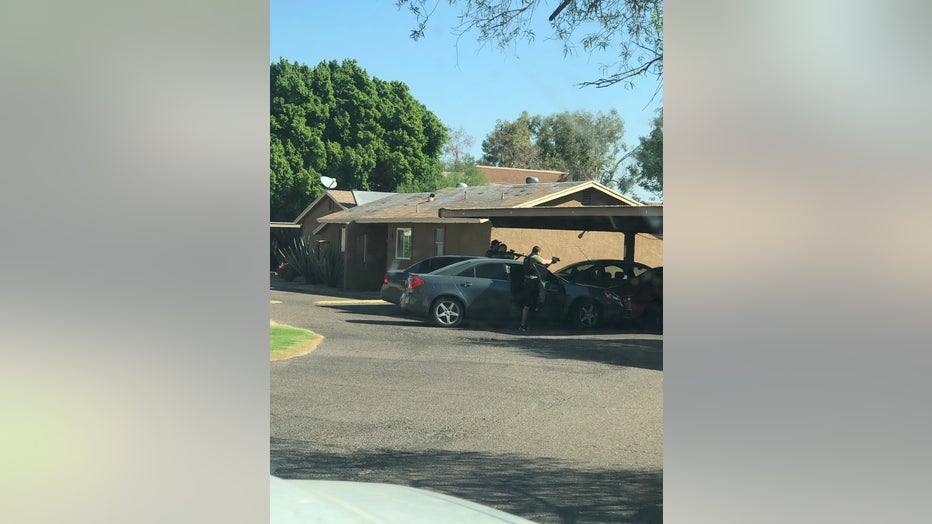 A witness says this photo was taken moments before Mesa police shot the suspect near University Dr. and Evergreen Rd. in Tempe.  (Peter Morales)
Benitez's family watched the footage with Tempe police investigators on Oct. 1 and still maintain that the shooting was unjustified.
"It doesn't make any sense. He was unarmed. He was complying and they shot him and murdered him," said Benjamin Taylor, an attorney for the family. "They didn't give him a chance to live. He's probably shot less than two minutes from when he puls into the apartment complex. They kill him, they don't do any de-escalation."
Taylor says at least two dozen lethal and non-lethal rounds were fired at Benitez, who did not have a weapon.
Tempe police are conducting the investigation since it happened in their city.
Once completed, Tempe police will turn over their results to the Maricopa County Attorney's Office for review.
Get breaking news alerts in the FREE FOX 10 News app. Download for Apple iOS or Android.