Armed woman shot in Chandler shopping center parking lot wasn't following commands, police say
CHANDLER, Ariz. - Chandler Police officials say they are investigating an officer-involved shooting that happened on the western edge of the city on the night of Nov. 17.
The incident reportedly happened at a shopping center in the area of 54th Street and Ray Road, just across Interstate 10 from the Ahwatukee area of Phoenix. Video taken earlier in the evening by SkyFOX showed a sizable police presence at the shopping center. Stores at the shopping center were closed as a result of the incident.
According to Chandler Police Detective Eva Zermeno, the incident began at around 6:00 p.m., when officers responded to the area for what was initially reported as a welfare check on a person at a parking lot.
When officers arrived at the scene, the subject was seen with a gun inside her vehicle, and Det. Zermeno said the subject did not comply with the officer's command regarding the weapon. 
"She was given commands not to touch the weapon, but she did not comply with those commands. The suspect grabbed the weapon and made a threatening move with it toward the officer. The officer fired two shots at the suspect, which struck her in the upper chest," stated Sgt. Emma Huenneke.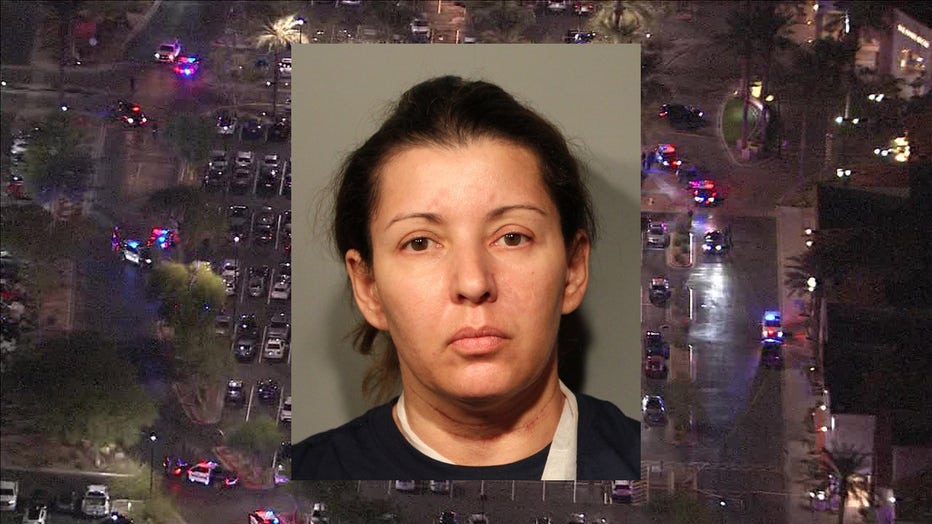 Renata Eldred (Chandler Police Dept.)
The suspect was identified as 35-year-old Renata Eldred. She was taken into custody and medical aid was provided. The officer was not injured.
Officials said there is no further threat to members of the public.
"It can be  a very chaotic situation, however, our officers are well-trained for these specific situations," said Zermeno. "We set up a perimeter and determine where the incident occurred and secure it to make sure we preserve all the evidence - and we move forward from there."
"After being treated and released from the hospital, she was booked into Maricopa County Jail on charges of Disorderly Conduct and Aggravated Assault," said Huenneke.
Map of the incident scene