Russian invasion of Ukraine: Arizonans still helping out Ukrainians a year after war began
PHOENIX - It has been almost a year since Russia invaded Ukraine, and since the invasion began, many Arizonans decided to go to Eastern Europe and help Ukrainians in need.
"It's gritty, it's hard, it's dark – in fact, literally often, because they're always blasting out the power over there. It's terrible. War is terrible," said Rev. Sheryl Campbell.
Rev. Campbell's son, Brad, is on a humanitarian mission to help the people of Ukraine. He has been in the war-torn country for almost a year.
"Just kept thinking somebody's got to do something," said Rev. Campbell. "By early April, [Brad] was on a plane on his way over there, saying 'well, I guess I'm somebody.'"
It is difficult for a mother to watch her son head willingly into a war zone, but Rev. Campbell knows the work he is doing is making a difference.
Brad has been keeping his church group informed, every step of the way.
"He finds out what people need that they don't have, and when people send him donations, he uses the donations to buy stuff and get it to people in need," said Rev. Campbell.
Brad is among many Arizonans who stepped up to help. Dmitri Logvinenko is another: the college professor has visited the country multiple times to help his fellow Ukrainians.
"The power was turned off, the water was not running. It was all disconnected because of Russians shooting our infrastructure. They destroyed some of our power stations," said Logvinenko.
Logvinenko said people are starting to become accustomed to life in times of conflict.
"In Kharkiv, it was different from the summertime, when I was there. A lot more stores were open. A lot more restaurants were open. People were walking. Still, there was shelling. There's shelling, like, almost every day," said Logvinenko. "People are getting used to this, unfortunately."
Logvinenko says the ultimate goal is to push the borders back and reclaim not just the cities that have been invaded by Russians during the current conflict, but also Crimea, which has been occupied by the Russians since 2014.
Information for Rev. Campbell's son
Read More Stories on Russia's Invasion of Ukraine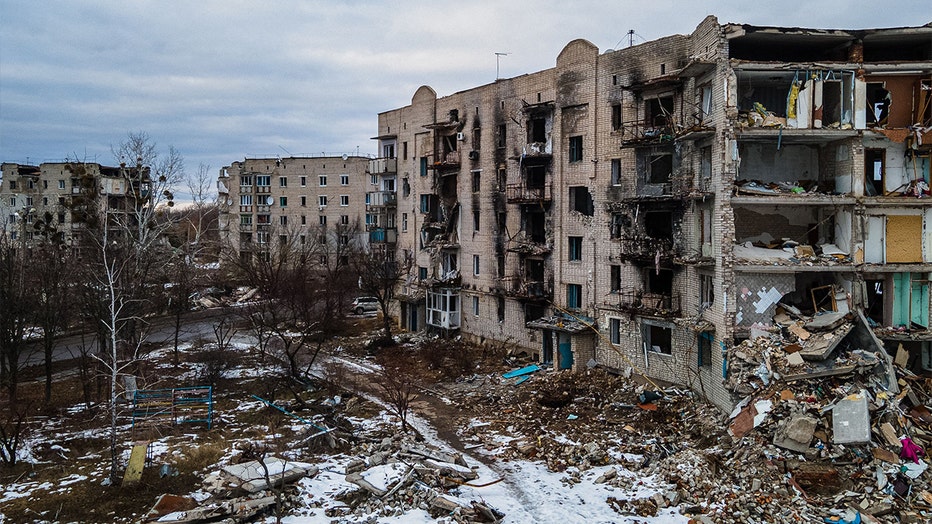 An aerial view shows residential buildings damaged by shelling in Izyum, Kharkiv region on February 20, 2023, amid the Russian invasion of Ukraine. (Photo by IHOR TKACHOV/AFP via Getty Images)