Shocking images show pure power of historic Bay Area bomb cyclone
A deadly storm whipped through the Bay Area on Tuesday afternoon and brought record-breaking winds and heavy rain with it. 
Flying couch
In San Francisco nearly 80 mile an hour wind gusts were strong enough to send a brown futon flying through the sky. 
A video posted on TikTok shows the couch soaring past a San Francisco high rise before it came crashing down on a street below. Luckily, no one was injured by the couch. 
Runaway Barge
Not too far away, San Francisco's 3rd st. bridge near Oracle Park, was damaged when a barge came lose and hit the bridge. 
A barge on the loose in the San Francisco Bay near Oracle Park on March 21,2023. 
Raging waters
The wind also produced rough waves in the San Francisco Bay near the Ferry Building. The water was rough enough for all ferry service to be canceled. 
Those brave enough to walk or bike along the embarcadero as the storm raged got drenched.  Video shared with KTVU shows a person biking near the raging waters get absolutely drenched by a wave. 
Runaway dock
A dock in the Oakland estuary broke away from the Encinal Yacht Club with five sailboats and two inflatable boats still attached to it on Tuesday afternoon. 
KTVU cameras captured this footage of the dock floating down the estuary. 
Oakland firefighters tied the runaway dock to a boat and tug it to a safe place.
According to OFD, six separate boats also broke loose from their docks during the storm. Footage from KTVU's Sky Fox shows one of the boats underwater, others were spotted floating throughout the estuary.
A boat sinks in the Oakland Estuary.
Falling glass
Winds in downtown San Francisco were so strong it blew windows out of high rise buildings in downtown San Francisco. According to San Francisco fire officials, multiple windows were damaged at Salesforce East (350 Mission St.). No one was hurt by the falling glass. The San Francisco Department of Building Inspection is investigating. 
A window was blown out by strong winds in downtown San Francisco. 
Downed shipping containers
The strong winds in Oakland, which gusted up to 74 MPH, were so strong that they knocked over shipping containers near the Port of Oakland.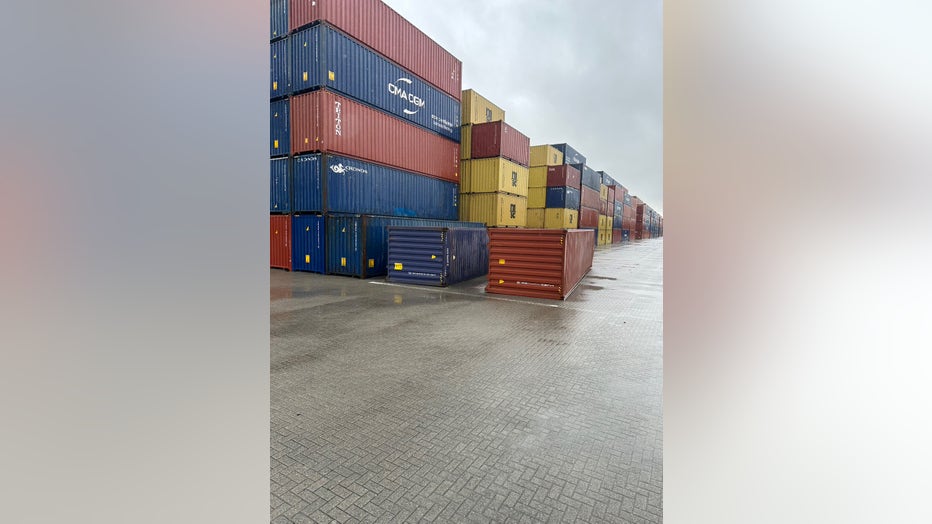 Strong winds knock over shipping containers in Oakland on March 21, 2023.
Reverse waterfall
A video appearing to show the wind causing a reverse waterfall was sent to KTVU by someone near Tunitas Creek in the Peninsula.