Suspect accused of shooting, killing 2 men at Glendale bus stop
GLENDALE, Ariz. - Police say a homeless man has been arrested in the shooting deaths of two people at a Glendale bus stop.
According to police, officers responded to a shooting call in the area of 51st Avenue and Northern at around 2:30 p.m. on Nov. 20. When officers got to the scene, they found 69-year-old Richard Hodakievic and 24-year-old Jaquey James with multiple gunshot wounds.
Both victims died from their injuries.
The suspect, identified as 26-year-old Dominic Celaya, was arrested in connection to the shooting.
At the time of his arrest, police say Celaya was hiking underneath a pile of compost in a backyard. A police K-9 was used to take him into custody.
According to court documents, Celaya was riding in a car driven by his girlfriend prior to the shooting when they got into an argument, which became physical. Celaya then got out of the car and fired two rounds into the air before shooting the victims at the bus stop.
"Witnesses tell police they saw Celaya fire shots into the air just north of that intersection," police said. "Immediately after, witnesses say that Celaya went south on 51st Avenue and approached the two men, who were sitting at the bus stop. It was at that point where witnesses say he shot both victims several times."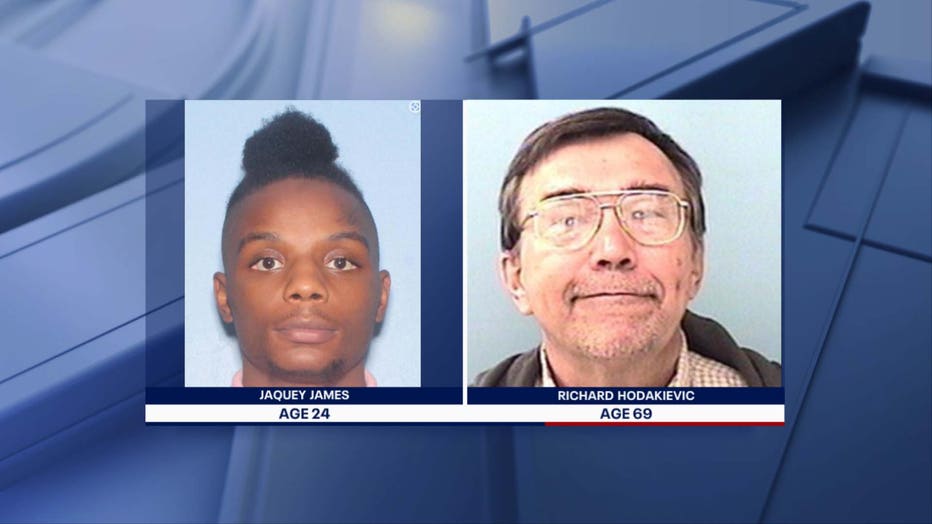 Jaquey James and Richard Hodakievic (Glendale PD)
According to police officials, they have no reason to believe that Celaya knew Hodakievic or James.
"We believe this to be a truly random act," a police official said.
Celaya was booked into jail and is accused of two counts of first-degree murder and two counts of unlawful discharge of a firearm. He is being held on a $1 million cash bond.
Meanwhile, we spoke with the father of James on Nov. 21, who said his son was a father of a three-year-old girl himself. He said James was a brilliant young man, with a bright future in music and art. 
James' family has set up a GoFundMe.
Witnesses, area residents speak out
On Nov. 20, we heard from people who witnessed the shooting.
"I heard two shots really quick," said Jim Ray, who lives in the area. "Then I heard three more, and then three more. Eight total. I ran over here, the guys were laying on the ground bleeding out. Terrible."
"I was standing here waiting for the bus, and a young black kid came from [QuikTrip] wearing a red hoodie," said Quinton Mithcell. "He walked across the street, and he wasn't there for more than two minutes. Then I heard three loud gunshots. There was a pause, and two more gunshots, and then [he] went running up the road."
On Nov. 21, we spoke with a couple whose surveillance camera captured the suspect hiding in their backyard.
"It was a scary situation.," said Sharon Lardeo.
"I opened up the overhead door, there was a police out here, three or four police cars out here, and they told me to go back in the house. There was something going on," Albert Lardeo recounted.
Video from the Lardeos' home surveillance camera showed a L-9 finding and biting Celaya. At the time, Celaya was reportedly hiding underneath a compost barrel.
The incident has left some people concerned about safety in the area.
"I'm very concerned," said Clinton Mitchell, who witnessed the incident. "My parents live up the road."
Where the shooting happened