Shootout and barricade situation prompts lockdown of Maricopa elementary school; suspect dead
MARICOPA, Ariz. - An investigation is underway, according to officials in the town of Maricopa, following a shooting and barricade situation that culminated in the suspect's death on Aug. 29.
"These are complicated and convoluted investigations," said Commander Stephen Judd with the Maricopa Police Department. "There's a lot of moving parts, especially when we have a citizen that has died, and we have the scene to deal with."
According to officials, the incident began at 10: 30 a.m. as an investigation into a noise complaint by Maricopa Police.
"When officers arrived, they were confronted by a gentleman sitting in his front yard of the house, with a handgun in each of his hands," said Cmdr. Judd.
Police officials said the person did not respond to their commands to drop the guns.
"He retreated into his garage and then began firing at officers. Our officers returned fire," said Cmdr. Judd. "At that point, the suspect retreated into the house and barricaded himself."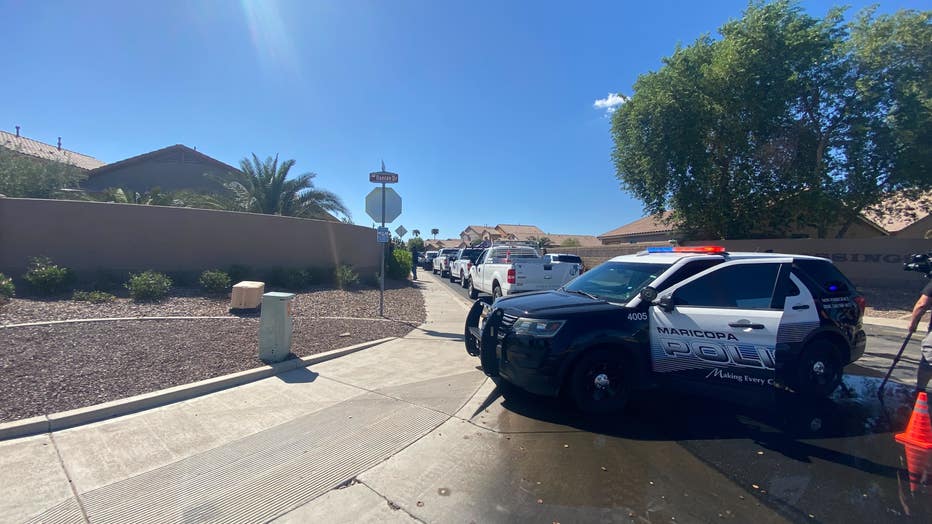 Maricopa Police officials said they called in the Pinal County Sheriff's Office and the SWAT Team to help out. They later used a drone to find the suspect, identified as 38-year-old Brian Simmons, dead in the backyard.
Several homes in the area were briefly evacuated, and Butterfield Elementary School went on lockdown, and then shelter-in-place.
Neighbors say Simmons was known to the community.
"Caused a lot of strife and disruption in the neighborhood, and it was basically every day," said Rick Brock. "He was an MMA fighter. He was in great shape."
Officials said it is not known whether Simmons died from a self-inflicted gunshot wound, or as a result of the shootout.
The Pinal County Medical Examiner will determine Simmons' cause of death.
(Click here for interactive map)