Stuck on airport layover? Travel pros reveal best ways to spend that extra time
If you're taking to the friendly skies this summer, fall or winter, you may have a planned airport connection — or in some cases a surprise airport layover due to a delayed or canceled flight. 
No one likes travel surprises, of course.
But instead of bemoaning the time you'll have to spend at the airport, check out these best tips from travel experts for how to make the most of your time between flights. 
AIRLINES RANKED FROM BEST TO WORST IN 2023 BY THE POINTS GUY: WHERE DOES YOUR LOYALTY LIE?
These just might come in handy. 
Invest in a lounge pass membership
The most common version of airport lounge access is when a credit card partners with the Priority Pass lounge network.
There are more than 1,300 airport lounges around the globe, said Ted Rossman, senior industry analyst at Bankrate.com. 
"Priority Pass has an extensive network of lounges. Some of these are branded by specific airlines and others are more general-purpose," he noted.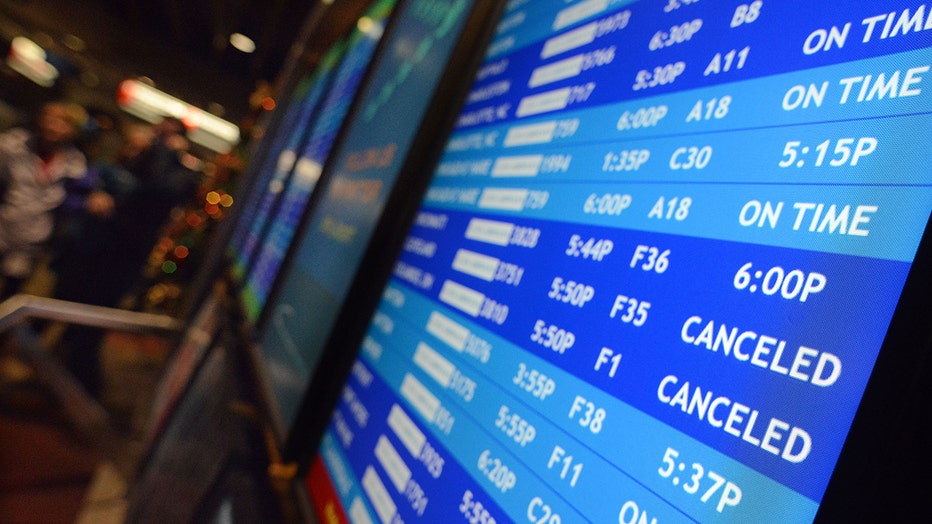 Flight departure displays indicate delayed or canceled fights at Philadelphia International Airport November 26, 2014 in Philadelphia, Pennsylvania. A winter storm causes travel delays at the airport on the eve of Thanksgiving. (Photo by William Thom
A Priority Pass membership with unlimited visits costs about $470 annually. 
But you can get that same access at no extra cost via credit cards such as the Chase Sapphire Reserve, Capital One Venture X, Amex Platinum and more, said Rossman.
There are also certain lounges that are only for customers of specific airlines. 
"These non-Priority Pass lounges are open to customers who buy memberships, who are flying in premium fare classes, who have certain types of elite status with the airline and/or who have high-end airline credit cards such as the Delta Reserve Card," added Rossman.
RELATED: Walmart launches travel benefits for its Walmart+ members
Finally, credit card brands sometimes have their own lounges. 
Amex's Centurion Lounges, said Rossman, are the best historical example. 
"More recently, Chase and Capital One have debuted a few of their own. These are accessible to certain cardholders — usually cards with higher annual fees," Rossman told FOX Business.
Plan a layover to explore a destination
Katy Nastro, a travel expert and spokesperson with Going.com, said that when traveling internationally, she intentionally tries to book a long layover when possible. 
SUMMER AIR TRAVEL ISSUES LIKELY TO CONTINUE, EXPERTS WARN 
"For example, I booked a long layover through Copenhagen for nine hours, which gave me time to leave the airport, rent a bike and check out a notable covered food market, TorvehallerneKBH, for a sampling of Danish delicacies before heading back for my flight," she said.
Find great perks at the airport
Finding things to do in airports during a layover can be tricky, especially if the airport is small and outdated, said Nastro.
"But luckily, most connecting flights fly through major hubs with much more to offer travelers," she said.
Flying consistently through the New York area, Nastro said she finds a long layover at New York's JFK airport a favorite because of the TWA Infinity Pool at the TWA Hotel, located at the airport. 
"Not only is exploring the TWA Hotel a great way to kill some time, but the rooftop pool and observation deck is open year-round and to non-hotel guests," she said.  
"Fees and reservations are necessary during summer/fall, but winter/spring is when no reservation is required, and the pool stays heated even in chillier months," she said. 
"If flying through JFK, don't forget to pack your swimsuit in your carry-on."
Sample the foodie options
Airports have go-to choices for pizza, sandwiches and sit-down bites, but there is a growing list of local and tasty food options coming to airports, too, said Sally French, travel expert with NerdWallet. 
NEW REQUIREMENTS TO TRAVEL TO EUROPE WILL BE A 'PAIN' FOR TRAVELERS IN 2024: LEE ABBAMONTE
"For example, you might dine on France's famous caviar at Caviar House & Prunier at Paris Charles de Gaulle Airport, or San Francisco's famous sourdough bread bowls at Boudin Bakery within San Francisco International Airport," she said. 
Before you pick where you're going to eat, do some research on the culinary choices or take a stroll through the terminals to see what's there.
HMSHost is a global restaurateur, for example, that operates dining venues in over 75 airports across North America.  
"HMSHost has built its reputation on bringing the very best of the local food and beverage scene to airports," said Tyler Pitman, vice president, portfolio development, brand partnerships & adult beverage at HMSHost, based in Bethesda, Maryland.
"We understand that many travelers don't have the chance to explore local restaurants, so we partner with chefs and brands that give travelers a taste of the community even if they never leave the airport," he also said. 
HOLIDAY TRAVEL: IS NOW THE TIME TO BOOK AIRLINE TICKETS?
"Travelers on layovers at San Antonio International Airport, for example, can taste authentic Tex-Mex from celebrated local chef Johnny Hernandez at our newest quick-service concept Super Bien."  
Also, the East Coast has some exciting culinary airport picks. 
"We opened an outpost of the famed Boston Public Market — BPM at Boston Logan — featuring local vendors serving staples like lobster rolls and pastrami sandwiches," added Pitman. 
"Also, at Charlotte Douglas International Airport, we created restaurants and bars with several beloved Charlotte-born breweries."
Take in the airport's entertainment offerings
Long airport layovers don't have to be a bad thing, said French with NerdWallet. 
"Beyond eating, airports are also adding more things to do. Increasingly they're resembling a runway-lined Disneyland," French said.
Some examples include the movie theater at Portland International Airport, the putting green and virtual driving range at Minneapolis-Saint Paul International Airport's PGA MSP Lounge, and the seasonal ice skating rink at Denver International Airport. 
Also, some airports are offering yoga rooms, live music and small museums, French noted.