Takeoff shooting: Suspect Patrick Xavier Clark indicted for murder of Migos rapper in Houston
HOUSTON - The man charged in the death of Migos rapper Takeoff has been indicted on a murder charge, officials confirm.
According to the Harris County District Attorney's Office, Patrick Xavier Clark was indicted by a grand jury Thursday morning.
CLICK HERE TO DOWNLOAD THE FOX 26 NEWS APP
In a statement, Clark's attorney Letitia Quinones-Hollins said, "Today's action by the grand jury is not unexpected. We would ask people to remember that getting an indictment requires meeting a very, very minimal standard of proof. When we get inside a courtroom and in front of a jury, where we will be able to put on our evidence and cross-examine the state's witnesses – where the standard of proof is guilt beyond reasonable doubt – we expect the jury will come back with a verdict of not guilty."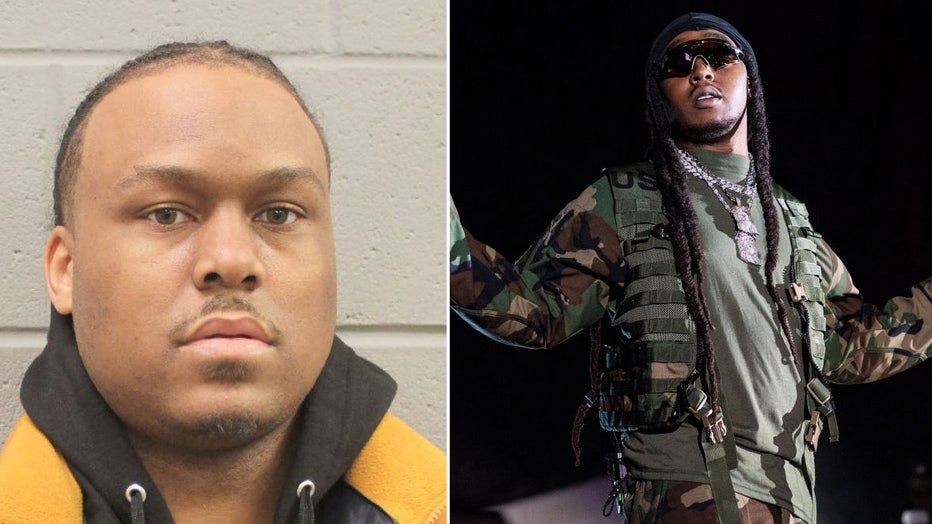 Patrick Xavier Clark, left, charged with the murder of Migos rapper Takeoff, right. (Harris County Sheriffs Office/Erika Goldring/Getty Images)
Takeoff, whose real name is Kirsnick Khari Ball, was killed on Nov. 1 when gunfire erupted outside of a private party at a Downtown Houston bowling alley. Two others were injured.
Police believe the shooting happened after a dice game, but Takeoff was an innocent bystander. An autopsy showed he died from gunshot wounds to the head and torso.
PREVIOUS: Takeoff shooting: Patrick Xavier Clark charged with murder of Migos rapper in Houston
Police announced Clark's arrest a month after the shooting.
Takeoff was part of the Grammy Award-nominated rap trio Migos with his uncle Quavo and cousin Offset from suburban Atlanta.