Texas border: Judge orders Texas to remove floating barrier from waters of US-Mexico border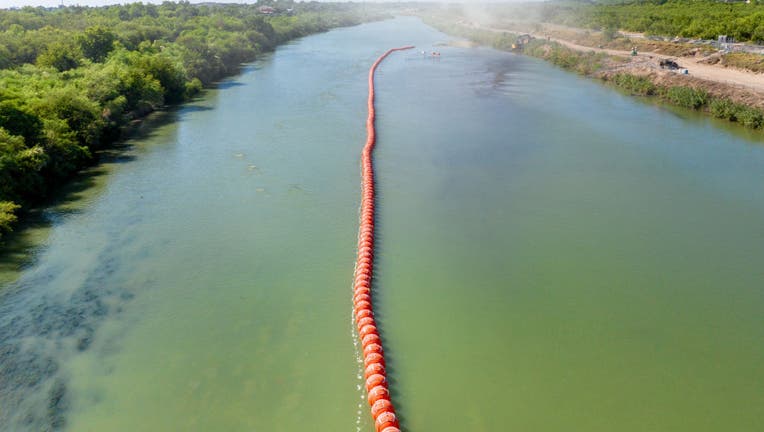 article
AUSTIN, Texas - A federal judge on Wednesday ordered Texas to move a large floating barrier to the bank of the Rio Grande after protests from the U.S. and Mexican governments over Republican Gov. Greg Abbott's latest tactic to stop migrants from crossing America's southern border. 
The decision by U.S. District Judge David Ezra of Texas is likely to be appealed by the state, which for the past two years has aggressively pushed legal boundaries to curb the flow of migrants under a sprawling mission known as Operation Lone Star. The judge said the state must move the barrier by Sept. 15. 
FOX 26 Houston is now on the FOX LOCAL app available through Apple TV, Amazon FireTV, Roku and Google Android TV!
Dozens of bright orange, wrecking ball-sized buoys have created a water barrier longer than a soccer field on a stretch of river where migrants often try crossing from Mexico. Texas also  has installed razor wire and steel fencing on the border, while also empowering armed officers to arrest migrants on trespassing charges.
The buoys deployed in July brought a swift legal challenge from the U.S. Justice Department, which accused Texas putting a barrier on the international boundary without permission. President Joe Biden's administration also said the water barrier raised humanitarian and environmental concerns. 
Texas installed the buoy barrier near the border town of Eagle Pass, with anchors in the riverbed.
Eagle Pass is part of a Border Patrol sector that has seen the second-highest number of migrant crossings this fiscal year with about 270,000 encounters - though that is lower than it was at this time last year.
The Biden administration has said illegal border crossings declined after new immigration rules  took effect in May as pandemic-related asylum restrictions expired. 
Like other pieces of Abbott's multi billion-dollar border mission known as Operation Lone Star, the buoys pick up where former President Donald Trump left off. Plans for the same water barrier  were in the pipeline in 2020 , according to Mark Morgan, who at the time was the acting commissioner of U.S. Customs and Border Protection.  
Morgan said the plans were scrapped after Biden took office the following year. He called the barrier a "water wall" and said it was intended to be used as a stopgap in sections of the border where fences were not yet built or practical. 
In a statement on Wednesday afternoon, the office of Texas Governor Greg Abbott said: 
"Texas will appeal. Today's court decision merely prolongs President Biden's willful refusal to acknowledge that Texas is rightfully stepping up to do the job that he should have been doing all along. This ruling is incorrect and will be overturned on appeal. We will continue to utilize every strategy to secure the border, including deploying Texas National Guard soldiers and Department of Public Safety troopers and installing strategic barriers. Our battle to defend Texas' sovereign authority to protect lives from the chaos caused by President Biden's open border policies has only begun. Texas is prepared to take this fight all the way to the U.S. Supreme Court."
The Associated Press contributed to this report.